It's hard to stand out or even survive on the social media front today if you're not using video in some way. Not all of us have time or resources to create our own videos and most social media operations consist of one person doing it all. Anyone who has ever been in this situation knows nothing tastes better than a free lunch, whether it's a free design tool, free social media scheduler or a database of free high-quality photos.
But what about videos, where do you find free videos? Do they even exist?
As a matter of fact, they do.
There are a couple of websites offering free stock video footage, and don't worry it's not like Shutterstock video footage. These are high-quality clips made by very generous people who decided to share them with the Internet. Although the videos are free to use, they still come with a price.

Since these videos are free, that means you're probably not going to be the only one using them, which means you have to be creative. (Same thing applies to free photos.) Don't just take the free clip and post it on Twitter and expect the a high engagement rate just because you posted a video.
It doesn't work that way. It's always better to have an original video you filmed yourself, but when that's not possible take what's for free and turn it into something that will have your signature on it. Also, make sure you read the terms of use, take a screenshot of the licence as proof, because people change their minds all the time and this is a great insurance for the future.
There are other ways you can use these free clips, they're not just meant for social media. You can use them as placeholders on your soon-to-be-live website, and for example for testing as well, since you can download them and edit them in any way you want.
Pexels Videos
We love Pexels photo database and we use it very often. It was a real treat to find out they also offer free video clips taken by young photographers and cinematographers. There are multiple categories of videos you can choose from, such as Mountains, Timelapse, Trees, Drinks, People and even categories like Blur if you're looking to add some text to your video later. I've chosen a few of my favourites to show you what you can expect.
Pexels Video offers completely free videos, all of them are under the Creative Commons Zero (CC0) license, which means that you can edit them or change them in any way you like and use them for both personal and commercial projects. You don't have to give attribution to the author. Pexel does warn users about using clips featuring identifiable people, you can't use them in a negative or offensive way unless you have consent. I say just try to use clips not featuring identifiable people unless you're the one who took the video.
Here are a few examples from Pexels: 00:25
Coverr
Coverr offers new videos every Monday. You can subscribe to their emails and receive updates about new videos available every week. The videos are also under the CC0 license, which means you can do whatever you like with them. Just like on Pexels Videos, there are plenty of categories to choose from, ranging from Tech videos to Artsy, Urban and even Animated.
The one thing I don't like about this site is that the preview process is a bit too awkward, it opens a lightbox, then when you downloaded it you're redirected to the bottom of the site and it takes forever to find the video on the list and browse further. Pexels has a much better preview, you don't even have to open the video to see it. Also, I have to note that a lot of the videos are similar to the ones you'll find on Pexels.
A few videos available on Coverr: 00:11
Distill (Beta)
Distill is new on the scene, offering 10 Free HD videos every 10 days. Again, you can browse multiple categories, starting from food to abstract videos. I like the layout of the site and the fact that you don't need to open the video in a new tab to download it and it doesn't open in a lightbox either. You can see the preview by hovering over the thumbnail.
The selection of the videos is not as big as on Pexels for example, but you can subscribe to their emails and get new videos in your inbox every 10 days.
Here is a selection of videos available on Distill: 00:21
So here are my top three choices for free video footage you can use for your projects, whether it's for your blog or social media content. Maybe I missed your favourite? Let me know in the comments, because as we all know nothing beats a free lunch!
SK00SK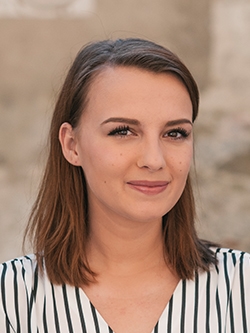 Sanela was born and raised in Croatia. From the moment she learned how to talk, she spoke two languages: Croatian and Slovak. Following her roots, she moved to Bratislava where she graduated with a Master's degree in Journalism.