"people who buy iPhones are image-conscious fad-following idiots".
The words of Apple pundit John Gruber of Daring Fireball fame, not mine. But a pretty good summary of the situation.
Gruber was complaining about the brilliant Samsung Galaxy S II ad making the rounds. Here is the long version (1m25s) which you might otherwise miss. There's lots of additional clever repartee not in the airplay version: "I guess this is what adultery feels like," says one of the Apple fans in the queue with the Samsung Galaxy in his hands.
01:25
long form version of the brilliant Samsung ad
I'm one of the people who moved from iPhone to Android and is really happy about it. Here's why. I owned an iPhone 3GS. After the initial thrill of ownership wore off, I became very tired of:
being forced to update to the latest version of iTunes every week
having my mobile phone tied to my credit card and personal account at Apple, sending all the info in my mobile phone to Apple anytime Apple chooses
fighting with a virtual keyboard which fills most of the screen when you are using it
really slow network switching (I live on the border between Slovakia and Austria and need to switch networks often), usually requiring turning the iPhone on and off
having to hack the iPhone to be able to share the internet connection from the iPhone even to a Mac: and then to be worried that any given update could kill my tethering set up
looking at really lousy photographs, worse than my two year old Nokias
After the iPhone, I bought an HTC Desire Z on a contract renewal and gave the iPhone to my girlfriend (strangely enough she likes it, as I'd already set her up with a MacBook a couple of years ago: she doesn't do much with a phone and liked its simplicity but could never really figure out the tethering).
The HTC Desire Z is so much better an experience than the iPhone:
I haven't had to even log in to Google in order to have a first rate experience.
The SIM card and account are only hooked up to my mobile provider and my private email (our own server) offering me far more privacy.
The slide out chiclet keyboard allows typing at about half normal speeds and is very accurate. I also enjoy the full resolution of my screen for viewing and writing while typing.
Network switching is relatively fast and doesn't require turning the Desire Z off (for bonus points to get internet working again – I have data turned off on when roaming – hit the Airplane mode setting and then turn wireless on again).
A Wifi hotspot app is built-in. Share your mobile internet connection and data plan with up to 8 devices. This really works well. It's my main internet connection when travelling now. You can even swap another carrier's card in when travelling abroad (I did this in Czech republic, switching from T-Mobile Austria to o2 in five minutes right in the store with no manual configuration necessary).
In fairness, I'm not sure photos are any better than the iPhone 3G and the movie mode is probably better in the iPhone.
Paying a normal contract fee, not an inflated iPhone contract. The difference is about €15/month or $25/month, i.e. $840 over the course of a two year contract. Paying taxes to the government is okay: they provide roads and schools. Paying taxes to Apple is just stupid: they don't provide different data than another telephone.
Samsung smartly shows iPhones are for pretentious wannabes who are behind the times. That Apple is trying to create a walled garden in the smartphone industry with their lawyers indicates just how accurate Samsung's television commercial is. The iPhone cannot complete on merit in the marketplace.
All in all, anyone who buys an iPhone at this point is an image conscious, fad following idiot. Android and the Android manufacturers are offering faster, more flexible and more reliable devices with a minimum of hype.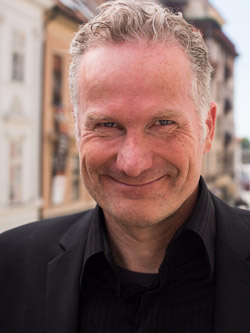 Alec has been helping businesses succeed online since 2000. Alec is an SEM expert with a background in advertising, as a former Head of Television for Grey Moscow and Senior Television Producer for Bates, Saatchi and Saatchi Russia.