What would it be like to have an almost unlimited budget for your new offices and to start from scratch? Goal: to have great space for work space for sixteen to thirty two employees with on premises presentation facilities.
37signals had that opportunity and went to their architect Brad Lynch with a clear concept. A large open space surrounding a core of private space (sound proof phone booths, multiple conference rooms). This bathes the whole group in natural light from massive windows in their loft space. The traditional approach is to put all the important people in private offices along the windows. Here founder Jason Fried successfully turned things upside down and ended up with a space in which more people would be happy.

37signals office central island for private functions

private island with glass walls
Along the back wall they built totally soundproof podcast studios and even a large auditorium.
While some of the decor choices are both practical and attractive (chalkboard walls with a magnetic backing in the conference rooms so that you can literally write on the walls or even hang charts), the overall look of the place depresses me.

holiday inn colours: auditorium
Jason chose browns and beiges and dirty greys, along with mottled red and burgundy carpets. In terms of colour, the offices look like a cross between an out of date airport and a Holiday Inn. I know the seventies are back in in terms of clothing fashion, but I didn't think seventies industrial design was ever going to get another look.
I guess I was wrong.

lounge ho hum like airports

half cubicles? why cubicles?

strange styrofoam like material for cubicles: weird
Another downside of being based in Chicago or almost any large North American city is that the view is pretty dreary. You are not in Venice Italy here.

view of a parking lot: welcome to North American cities
On the other hand, the main conference room table is fantastic, like something out of Camelot.

conference room table is great: ready for Camelot
Great video (take the full tour) and very good viewing if you are thinking of building out a larger office. We recently moved into new space and had to face many of the same decisions.
While I've been critical, the core concept is solid and most of the elements which really bother me are easily changed (carpets, furniture).
Here's 37signals own take on the new office (I found the post after seeing the video and writing my notes above).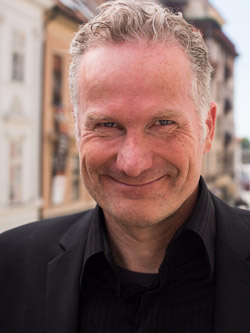 Alec has been helping businesses succeed online since 2000. Alec is an SEM expert with a background in advertising, as a former Head of Television for Grey Moscow and Senior Television Producer for Bates, Saatchi and Saatchi Russia.