Many sites whose new posts were previously indexed in one day have found themselves waiting 7 day to have their posts indexed. If you are depending on AdSense revenues for visitors clicking on topical recent posts, this is a big problem. I'd imagine that would be about a 60% income drop for your site overnight.
What's causing this issue?
Longtime rogue SEO Michael Martinez is bandying about the theory that the issue is using WordPress SEO plugins. And running around every forum in town shouting it from the rooftops.
Let me reiterate my opposition to the use of "All In One" and other SEO plugins – they are not helping any blogs with search engine optimization. They are bells and whistles, busy working gadgets….

A typical default WordPress installation does a perfectly fine job of allowing you to configure your page titles, URLs, and content. You don't need to embed "Keywords" in meta tags and your autogenerated descriptions will be no better than whatever a search engine would provide (and the search engines will ignore meta descriptions in many queries anyway)….

There is a LOT of confusion over what you need to do with a WordPress blog. The less you burden it with so-called "SEO friendly" features, the less likely you'll screw up your site in the search results.

If you don't know enough about search engine optimization to do it yourself, then you're really in over your head when you depend on a theme or plugin to make the decisions for you.
Installing an SEO plugin will not damage your SEO.
Having custom handwritten descriptions can increase your clickthrough 50% or more.
Including a good short keywords section with the 5 or 6 top tags for your post can help with Yahoo still.
Writing a second structured title for search can really help (your article header should be written for the reader and not for search, i.e. with wordplay and puns and spin and short forms are good. Like a newspaper headline but the page title must include keywords)
So an SEO plugin can really help your SEO with minimal time and trouble.
Where Michael Martinez is quite likely right is that telling Google not to index whole sections of your website (archives, category and tag pages) and autogenerating metadescriptions is unproductive at best and dangerous at worst.
Semper Fi's All in One SEO (Semper Fi are not the original author, Uberdose is) does set all these things wrong out of the box. Very aggressive no-index, no-follow settings. So it is dangerous.
With FV All in One SEO, we took the opposite approach. The defaults are very conservative.
No-index is turned off.
No-follow is turned off.
Dangerous choices are hidden in advanced options out of the way of the beginner user.
We don't even rewrite your titles by default as a good WordPress theme should handle titles on its own.
Here's what our option screen looks like:

FV All One SEO for WordPress options: All the advanced voodoo is hidden and out of the way:
Default options do not include any no-index or no-follow nonsense.
Do not encourage your children play with knives either.
And here is the meat and potatoes of the interface: custom titles and custom metadescription. 

FV All in One SEO post interface: We count the characters for you and even offer
useful rollover tool tips for your client or for a beginner user. The goal:
Making SEO easy for both you and your client
What Martinez is ignoring is that may sites not using WordPress are waiting on indexing now too. So rather than ranting about WordPress SEO plugins, Martinez should be on the war path against no-index, no-follow, risky use of robots.txt and autogenerated content.
And Michael, if you want to offer the benefits of advanced SEO for WordPress without the risks, you can safely offer FV All in One SEO.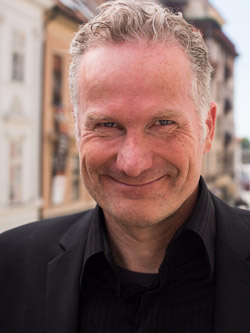 Alec has been helping businesses succeed online since 2000. Alec is an SEM expert with a background in advertising, as a former Head of Television for Grey Moscow and Senior Television Producer for Bates, Saatchi and Saatchi Russia.