Whatever you do, do not use FastSpring. They do not respect or support EU VAT rules on VAT exemption, effectively forcing your business customers to pay an extra 20% for your licenses. Adding 20% to a tax paying business's costs makes FastSpring and by extension your software very unpopular.
We use primarily use Paypal for our smaller transactions at Foliovision ($1000 and under). Some customers complain. They'd just rather not do business with Paypal. In these cases, we do have bank accounts in three major jurisdictions but it does slow down transactions and increase transaction costs on smaller invoices.
I tell them there is just no other payment service which works well for small international payments.
Precautions we take:
we don't confirm our bank account numbers which technically means that Paypal can't withdraw funds from our bank accounts.
they do do it anyway, but in our case it would be illegal and there's a very good chance that the bank would go after Paypal for the money themselves if Paypal did manage to snooker them into giving them cash.
we run a balance under $2000. Over that and the money gets shunted off to one of our bank accounts.
we are very good customers. We send lots of sales through and we buy lots of goods too. Occasionally we even have to switch currencies. Paypal makes a fortune off of Foliovision. We even introduce lots of new customers to them as well.
In general, limit liability and make yourself valuable. I recommend you do the same.
But then I go and read a post like this one about how Paypal single-handedly nearly ruined the Macgraphoto graphics bundle (sorry to have missed it Jacob: great idea for a themed bundle!). And I think we haven't done nearly enough and that we are playing with fire.
In the comments over at apparentsoft, someone recommend SWReg. Reasonable fees, big solid company, international operation. A lot to like on paper. But then it turns out SWReg is a shell of the original customer focused company built up by Steve Lee. SWReg is part of Digital River who specialise in two products these days, banes of the shareware world:
download guarantees (if you lose your license they will give you the code and let you download the software again). Any respectable shareware author does this free of cost.
reservations clubs. You sign up for $10/month usually unwittingly making you eligible for 10% off of 50% overpriced services and vacations. Great deal. Spend money to be marketed to at rip off rates.
So every time you send a customer to a Digital River company they will take his or her personal data and monetize/abuse it to the limits of the law and beyond. There is no way I'm putting any clients of Foliovision on that boat.
That knocks off RegNow, eSellerate, ShareIt, RegSoft.com, Reg.net, Emetrix in a single blow.
Someone else recommends Google checkout. Fortunately a more informed soul piped back that you'd be exchanging the frying pan for the fire. No one answers the telephone at Google (well AdWords does, but only AdWords).
PayPal certainly has its problems, but trust me, the alternative is NOT Google. Do not trust Google Checkout. If you think this story is bad, consider the following:

1. The author was able to speak to people.
2. He will eventually get the money.

If you have a similar problem with Google Checkout, your account will be closed automatically, there will be no one to talk to, and you will never, ever, ever be able to receive the money in the account. They keep it.
Here's Amy's full Google checkout horror story. In any case Google checkout is available only in the US and the UK. So much the better.
The payment provider to whom Apparent Software moved was often mentioned in the thread with Dan Engel, the FastSpring CEO even coming doing a drivethrough carrying a welcome sign. Unfortunately when you go to checkout the FastSpring site, you see that all that friendliness comes at a very high price: 8.9%. Ouch. That's triple Paypal and quadruple Google checkout rates. I'm afraid our accountancy firm and taxes already get a big slice of our revenue straight off the top. I'm not looking to lose another 10%. Thanks anyway Dan. While highway robbery with a smile may be better than a knife in the back it's still brigandry.
Kagi and Plimus are the same with 10% fees on sample $50/orders with Plimus scraping down to 9%.

kagi fees 10 per cent
Curiously Plimus likes big value sales, so we'd be in better shape with our larger value transactions at 4.5%. Plimus is also open to international businesses.
So where does the absence of customer service and extortionate fees leave us now?
We've implemented e-Junkie for clients and like it but e-Junkie only provides the shopping cart and delivery. They don't actually run the transaction for you. You're back to Google Checkout and Paypal.
There's just Avangate who gets high customer satisfaction rates. One independent provider in the world! But fortunately Avangate is international so they will accept us.
What are the rates like?
A bit confusing as there are two packages: 4.9% plus €1.95 or 8%.
On $50 transactions they both work out to $4.50 or 9%.
On a $300 transaction the 4.9% plus $2.50 fee costs $17.20 per transaction or 5.7%.
So for the international software or services seller who would like to break free of Paypal and Google and have a payment gateway, there are really two options. Plimus or Avangate.
Their existing customer base like Avangate much better: Avangate outscored Plimus on both ease of use and reliability. On the customer side, I don't like buying via Plimus as they are always holding up my orders for fraud verification. If I have to spend half an hour wheedling my $25 software out of the payment provider, I've just paid about $100 in hidden costs. I'm sure many of my clients would feel the same way.
Avangate as a buyer has been quick and painless.
My vote goes Avangate. Those clever Romanians, naming their company as if it were Stonehenge and somewhere in Britain. Who would guess that Avangate is headquartered in Their CEO Radu Georgescu is one of the few companies to best Microsoft in business, selling RAV anti-virus to Microsoft at an enormous profit and managing to keep his independence, retaining his company and his team in Romania. If Georgescu is smart enough to protect his software company from Microsoft, I expect he's clever enough to protect his merchant clients from fraud.
Avangate also shows enormous transparency, displaying names and photos of all their top management on their website, including links to their LinkedIn profiles. Elsewhere Avangate tell the whole story of their company, including products which they sold off. That kind of accessibility and transparency also earns heavy respect from me.
Avangate for the win by two full lengths.

avangate's Radu Georgescu: the man who outsmarted Microsoft and got his money and kept his life
Footnote:
Why not run our own merchant services?
Heavy setup and monthly fees.
Not compatible with Freshbooks (Avangate isn't now but I'll see what I can do about that.
Not compatible with the supplier of our hosting so we wouldn't be able to automate our rebilling there either.
So at the end of the day, running online payment ourselves would be a whole lot of hassle and a lot of costs with very few discernible benefits.
Another simple alternative: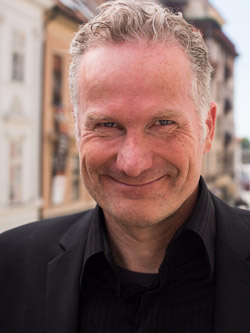 Alec has been helping businesses succeed online since 2000. Alec is an SEM expert with a background in advertising, as a former Head of Television for Grey Moscow and Senior Television Producer for Bates, Saatchi and Saatchi Russia.