If you are already an SEO insider, you sure know SEOmoz. And if your steps are heading into the SEO world just right now, you will hear about SEOmoz many times more. These guys are among the leaders in the world of search engine optimization. Within the last decade they have created hundreds of articles, tools, guides, studies and held many conferences and seminars.

Rand Fishkin: Thinking like a search engineer
One of these seminars became the core of The SEOmoz Video Training Series. Since this DVD is quite expensive for a blind purchase, we have written short review for you. What can you expect for your investment of several hundred dollars?
Since the subtitle is SEO Basics (there is also Advanced version offered), it's supposed you are a rookie. Maybe web designer, who finally recognized the importance of SE optimization, small online business owner, who doesn't want to spent fortune on professionals; or CEO of a large company, who doesn't understand why site promotion department asks for funds whoever you are, this training will lead you step by step into the world of SEO.
DVD box contains two discs, with playtime slightly over 5h 40min (official website mysteriously claims 7h…) and is divided into 8 segments (3+5). Every segment contains short introduction and then the record from seminar. The speaker is the "Wizard of Moz" personally – Rand Fishkin, one of the SEO pioneers and most recognizable experts.
Let's introduce the segments shortly:
Introduction to SEO marketing
Since you are thinking of buying this DVD, you probably understand the importance of good SE rankings. Rand is going to back your understanding with a bunch of well describing statistics. Do you know where the eye lens of tested subjects were aiming, when reviewing Google search results? Yes, you guess right, it wasn't the 23rd position!
Search Engine algorithms
No real professional will claim to have cracked Google's (or any other search engine's) algorithm. But at least he or she can reverse engineer part of it. After a historical excursion to the old times, when sites simply packed with hundreds of keywords dominated rankings, a current top 10 list of important factors (based on opinions of the best experts) is presented. Meta tags, trust ranking, relation, popularity, keywords and many other factors are analyzed, some myths are unveiled. By the end even the audience starts to take part. I suppose this 83″ long chapter is going to be the most exciting part for most of you.


Learn by watching the Google Query log

SE friendly design
SE spiders are not humans: you have to take that into consideration at all times when designing your site. That's the main message of the third segment. Keyword incorporation, information architecture, spiders' access restrictions, robot.txt and the always "hot" duplicate content topic are discussed. #3 is the most technical segment.
Keyword research and targeting
Any discussion of keywords inevitably involves many myths from the days when their discovery was a revelation. Now any SEO worth his salt can discover all the core keywords for a domain in a few hours and in order of importance. Keywords remain one of the core factors in SEO. What are your keywords and how to target them; seasonality; keywords in title, tags, meta tags, keyword density…
Content creation strategies
Here we go! White hat SEO is about having the right content on the right place in the right time. No seminar or DVD can teach you how to write the right content, but at least there can be some rules set. You should remember the basic rule – you can't take into consideration your customers only. Your content has to be loved by linkerati too!
Social media marketing
Web 2.0 develops faster than you would even dare to think. But this is the living heart of SEO. You can have a really great content, but what's the point if nobody sees it? Social media are close to traditional offline marketing. The more innovative you can be the better. As an example is used the AVVO project (a law website), which attracted the attention of the WEB 2.0 audience simply by being sued deliberately!


Social Media is a whole new exciting game
for Rand Fishkin

Blogging & the blogosphere
Perhaps even your grandmother has a weblog by now (and if not she reads some for sure), so naturally your business needs one too. How to optimize your blog, how to find niche topics, how to market it. The extremely popular SEOmoz blog can serve as inspiration. After the second segment of the DVD on search engine algorithms this is the best part of the DVD.
Analytics and metrics
"What can be measured can be improved too." There are much more options than Google Analytics. Different types of tracking, how to use it and how to understand the results. Trying new strategies doesn't have big value for you, unless you are able to track the outcome.
Finally, after the last segment there was broad discussion for half hour related with various topics (unfortunately sometimes too specific).
The overall technical quality of discs was standard, with good picture; sound was great, while Rand was speaking. However, the questions from audience were often hardly recognizable.
But my biggest complaint is related with the slideshow projection. There were tons of great charts, graphs and illustrations but for an extremely short time! Of course, you can pause the DVD and stare at the pictures for hours, but what's the point, when you can't watch while the speaker is explaining them. Some SEO ladies may be happy with Rand's presence on the screen (but beware, he is married!), the rest of viewers would be happier with more and longer slides instead of constantly watching the lecturer.
The background music in menu is run of the mill muzak (you know that repetitive "so irritating, that it's almost obsessive" kind of music).
This DVD will present you the world of SEO in highly professional manner, well structured from alpha to omega, but don't expect too much! You need a good content and you need a good promotion of that content, then your site will rank well. If you understand this basic truth, maybe you can invest your time into exploring more specific fields. These discs will show you the basic rules and reliable information (that's very important in the world of SEO full of myths and legends), but YOU have to do the work!
If you don't know how to start SEO on your site, then check out the SEOmoz SEO Basics DVD. If you do know, stop watching and start working.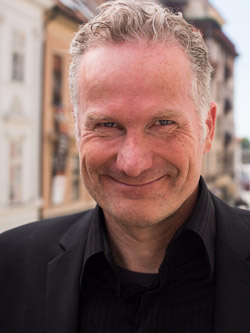 Alec has been helping businesses succeed online since 2000. Alec is an SEM expert with a background in advertising, as a former Head of Television for Grey Moscow and Senior Television Producer for Bates, Saatchi and Saatchi Russia.