Veerle Pieters lashed out recently at freeloader clients. The client in question would be a big client (city website in Belgium).
That particular city wasn't content with a design mockup alone oh no they even had the audacity to state that the design revisions to that mockup had to be free too. You only got to have the nerve to think that's normal. This pisses me off and I have one clear message to all those freeloaders "stick it where the sun doesn't shine"! I don't work for free! Somebody has to say it out-loud.

Time to put a stop to it

The purpose of creative pitches are to give clients a better understanding of the creative capacity of the selected agencies. To me it is a lame excuse to not browse around in the portfolios and let someone else do the work for free. I wonder what goes on in the mind of the people who write that stuff down, do they expect the freebies in everything else also? From what understand it is not only a Belgian problem but an international one.

So when was the last time that somebody did a day of work for free for you? Think about, let a painter do a few rooms as a proposal and maybe you'll order the rest later. Good luck in finding one that will do so. Those RPF's are 8 to 10 pages if you are lucky and doing everything to the letter it will cost at least a day of work.
From my time working in major advertising agencies, I know we do these things free all the time. We used to call them pitches. The creative department (I was television production) would end up staying all night for a couple of nights doing mockups, phony storyboards, new looks. The account executive types would be putting fat binders of research together.
It would all culminate with a 9:45am departure to the client, with creative directory, client services director, account director, account assistant, sometimes even a tv producer in tow if it was a really big deal and the campaign would feature television heavily. It would also help to bring along the tv producer if he had a great showreel and strong pitching ability.
Then the fun would begin. We'd sit there all day outlining our ideas to clients who would scribble it all furiously into notepads. Sometimes the clients would look a little bored.
Why not? We might be the fourth of four agencies invited to pitch.
Why did all this happen for free?
The brand would be worth million to million of commissions on the business over two years (usually that's how long the account would run for). Just based on average performance – hitting one out of four pitches – you'd be looking at a 100 to 1 return ($2 million commissions divided by $25,000 of pitch costs multiplied by four). Usually the client services director would know ahead of time which accounts were really in play (a lot of the time it was just politics – everyone knew the outcome ahead of time – new marketing director has come in country with an old friend at the BSBS Agency – god forbid anyone got in the way of that steamroller) – and we would work accordingly.
Unfortunately in web design, the budgets are rarely so big and it's out of line that the pitching process has been brought over to the web. Yes the client should be able to look at your portfolio, send you some specs, get a price quote and make an intelligent decision.
But even back in the major advertising game, sometimes the hottest agency in town would turn down pitches saying that they had all the business they needed and couldn't be bothered – and they still got new business.
Veerle that's where you want to be with your web design company. My biggest competitor (also a strategic partner) doesn't do pitches. He'd laugh. They are maxed out past capacity as is. If you prepay, you might get your website. And there's still a line up.
From what I can see at Duoh, you're almost there. To stay there – hottest agency in town – the struggle is never to do any bad or even mediocre work. And some clients make that very, very difficult. All business is not created equal. But that's another story!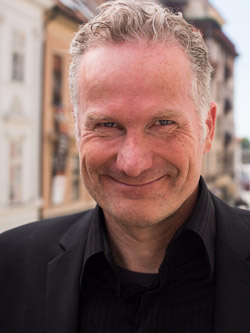 Alec has been helping businesses succeed online since 2000. Alec is an SEM expert with a background in advertising, as a former Head of Television for Grey Moscow and Senior Television Producer for Bates, Saatchi and Saatchi Russia.