Photographers (and videographers) are a funny bunch. Often, we argue about tiny technical distinctions that only other professionals can see. The major reasons for the artistic success of an image or a film have little to do with a tiny bit of sharpness or motion blur. Yet we'll argue for hours about it.
DxO Labs have put themselves in a difficult position when at the launch of the latest iteration of DxO PhotoLab aggressively marketing a feature called DeepPrime XD.


Differences between different versions of Prime Noise Reduction: Prime, DeepPrime and DeepPrime XD
DeepPrime XD is a refinement of what was a world changing feature in PhotoLab 5, DeepPrime. DeepPrime was a complete rewrite of DxO's original Prime noise reduction from the original PhotoLab. There's a huge difference between Prime and everyone else's noise reduction (Lightroom, CaptureOne/C1, On1). There's a big difference between Prime and DeepPrime, both in processing time (for the better) and quality. All smearing is gone. There's not much difference between DeepPrime and DeepPrime XD. Processing times get longer again (on the right hardware DeepPrime is significantly faster than Prime).
Why is DxO in a difficult position? Mainly Apple. Apple's Ventura OS broke DeepPrime XD processing on Apple's Neural Engine processor. Images processed with Apple's Neural Engine have a purple cast and are effectively unusable. Happily there's a workaround. The photographer only needs to choose to use GPU processing. Here's where to do so: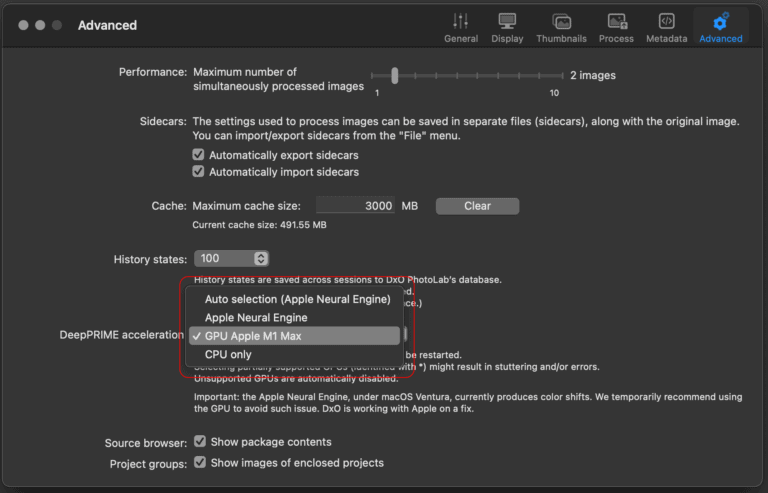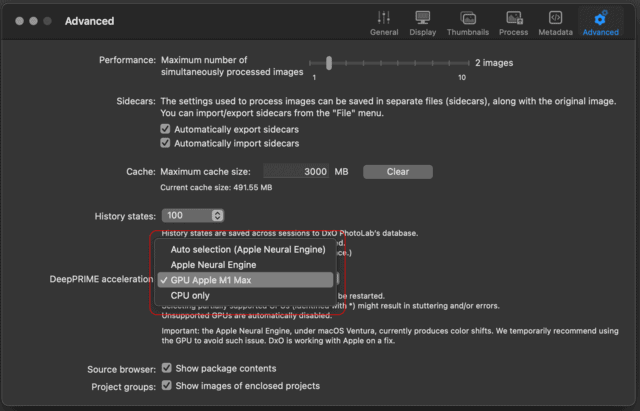 DxO clearly recommend against attempting to use the Apple Neural Engine on macOS Ventura.
Important: the Apple Neural Engine, under macOS Ventura, currently produces color shifts. We temporarily recommend using the GPU to avoid such issue. DxO is working with Apple on a fix.
It's unclear why DxO doesn't just disable Apple Neural Engine under macOS Ventura as DxO also write "Unsupported GPUs are automatically disabled."
Processing Time, DeepPrime vs DeepPrime XD, GPU vs Apple Neural Engine
GPU processing is a little bit slower. Here's a comparison:
| Kind | Time in seconds |
| --- | --- |
| DeepPrime Neural Engine | 8 |
| DeepPrime GPU | 10 |
| DeepPrime XD Neural Engine | 20 |
| DeepPrime XD GPU | 26 |
There's no great issue with using GPU processing for owners of an M1 Max or Studio with 32 GPU cores. Even the M1 Pro with 16 GPU cores is perfectly viable. Owners of an M1 Mini are in worse shape though as they have only a 7 or 8-core GPU. This would make processing times four times as long.
The Neural Engine processor includes 16 cores whether your M1 computer is an Apple MacBook Air or an M1 Max or even an Apple Studio. Only the Studio Ultra moves up to 32 neural engine cores. It's the great leveller.
Hence DxO faces a bitter backlash from DxO PhotoLab 6 users who own early M1 Macs with the 7 or 8 GPU cores or even M2 MacBook Airs with 10 GPU cores.
Sadly, there's not much DxO can do as it's an Apple bug.
PhotoLab users have two remedies available to them:
use GPU processing
backgrade to macOS Monterrey
macOS Monterrey works great and seems to have fewer compatibility issues for now than Ventura which seems to have changed quite a bit under the hood for media applications, both visual and audio. Not that installing Monterrey is not an option for M2 users.
Use DeepPrime instead of DeepPrime XD
Another option to mitigate processing times on an M1/M2 Mac running Ventura with just 7-8-10 GPU cores is to use DeepPrime processing instead of DeepPrime XD. This will shorten export times by 2.5x.
Image Quality Differences between DeepPrime and DeepPrime XD
Let's have a look at the difference between DeepPrime and DeepPrime XD. First the settings:
I normally use lower settings for DeepPrime (about 4) but for the visual test, it's better to ensure more distinctive processing.
Here's what the test image itself looks like (this is the Neural Engine DeepPrime XD version):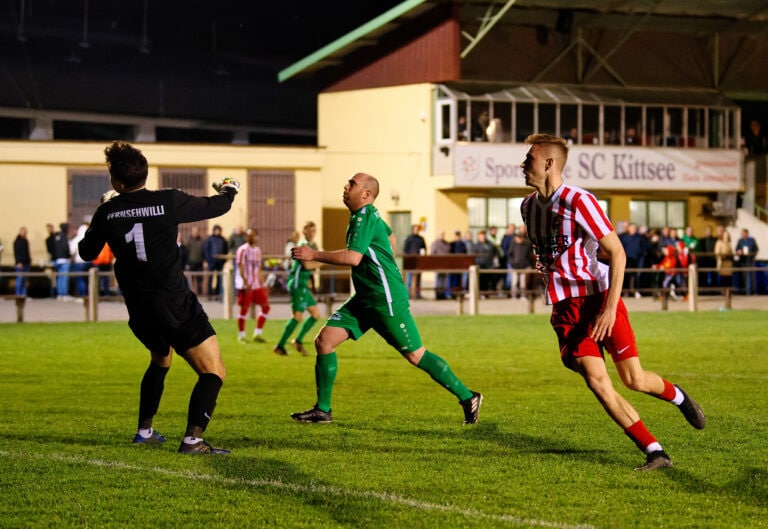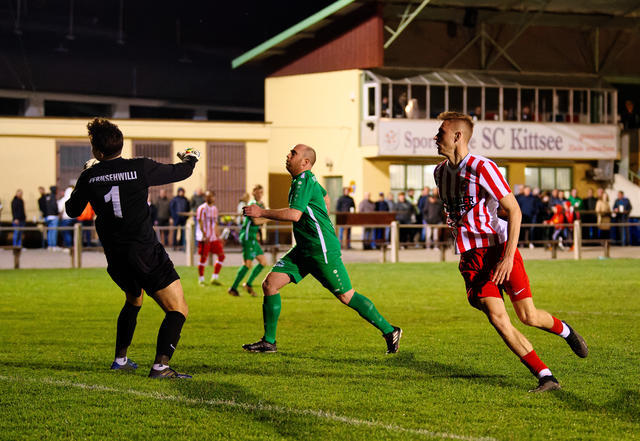 It's a photo of Jozef Sombat's second goal vs FC Winden at SC Kittsee on Saturday afternoon. ISO is good and high at 16000 on a Nikon D850. I don't recommend shooting this camera above ISO 12800. I hadn't expected it to get so dark in the second half. Thanks to PhotoLab's DeepPrime, it's possible to develop a persuasive and pleasant image out of what is a very noisy RAW file (available at the end of the article for download).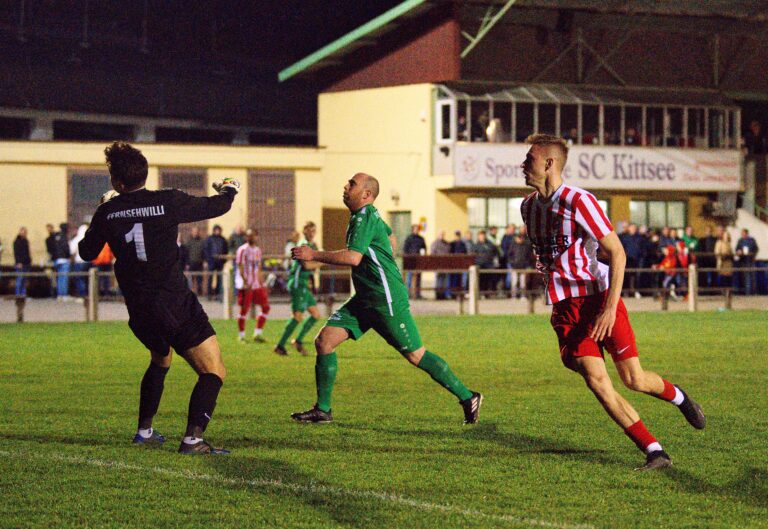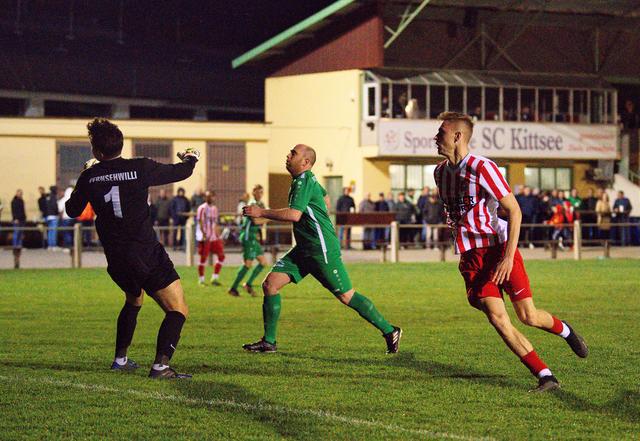 Now the screenshot of the difference at 100% with DeepPrime set at 20.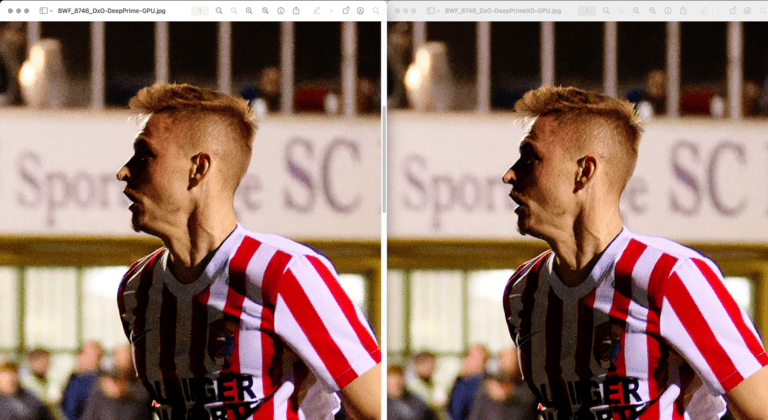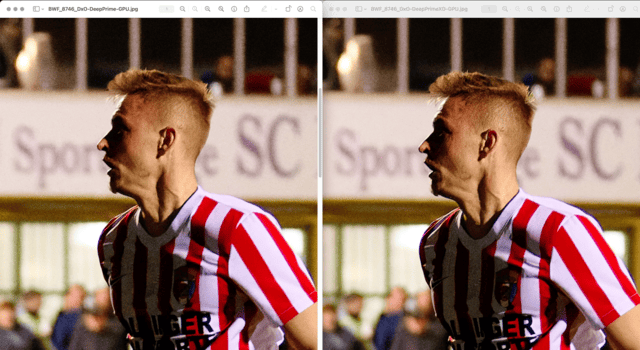 There is more perceptible detail in the DeepPrime XD image. In the DeepPrime XD image, the player looks like he has facial scars running along his cheekbones. This shot is in Austria and not in Mexico or El Salvador. The player does not have facial scars. At anything less than 100% the difference the difference is imperceptible. That said, this experiment has convinced me to do some further experimentation with DeepPrime XD with my own photography. DeepPrime XD does not look substantially worse and the additional sharpening adds some welcome grit for sports photography. I'll see about artefacts.
That said, I cannot imagine that the extra sharpening/invented texture would be make or break for a photograph. It's how many angels dancing on the head of the pin, kind of difference that only other photographers would care about.
Image Quality Differences between GPU and Apple Neural Engine Processing
Just for fun here's a comparison between DeepPrime XD with Neural Engine processing and GPU Processing.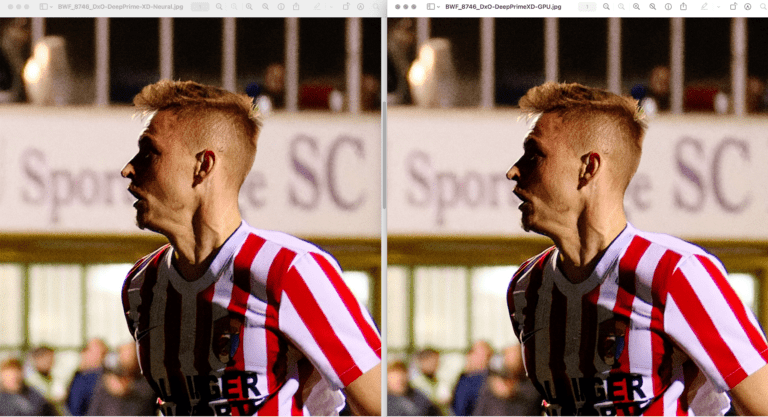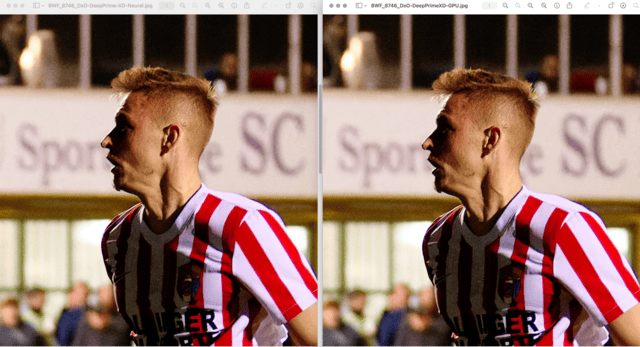 They appear identical to me, so nothing is lost by using the GPU engine except for a few seconds.
Reference
Here are the remaining output files as well as the NEF for anyone who wants to test speed on their own system.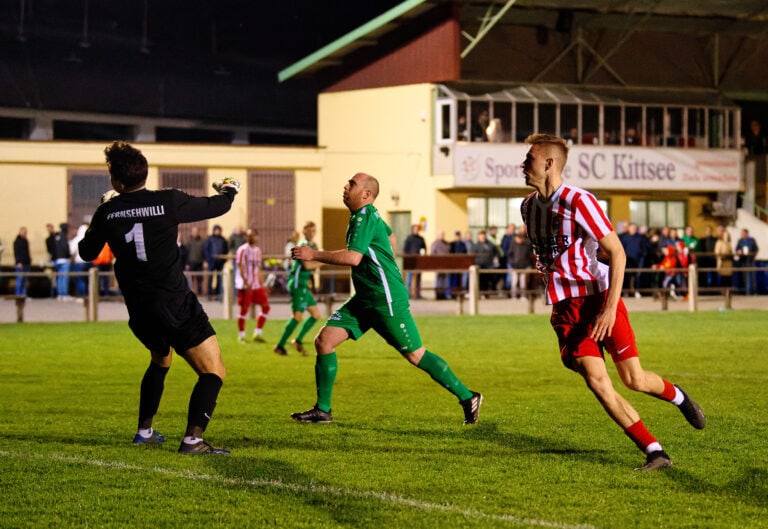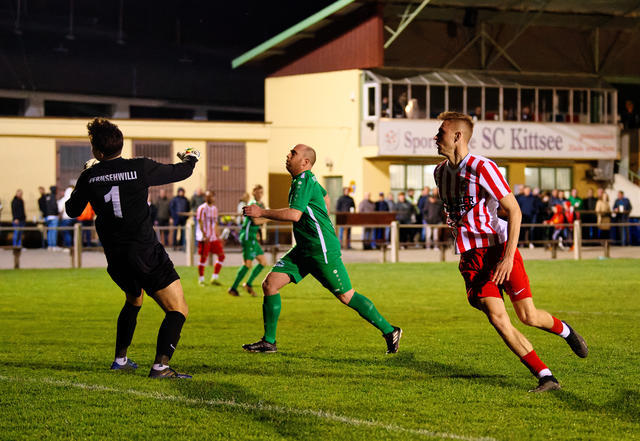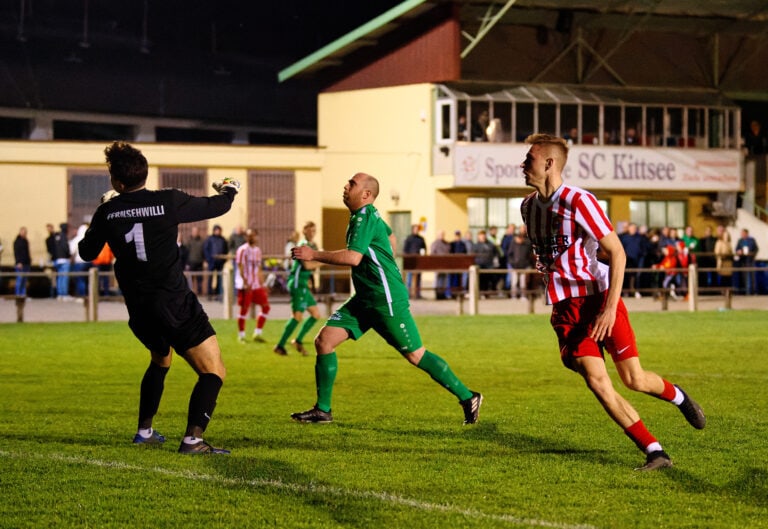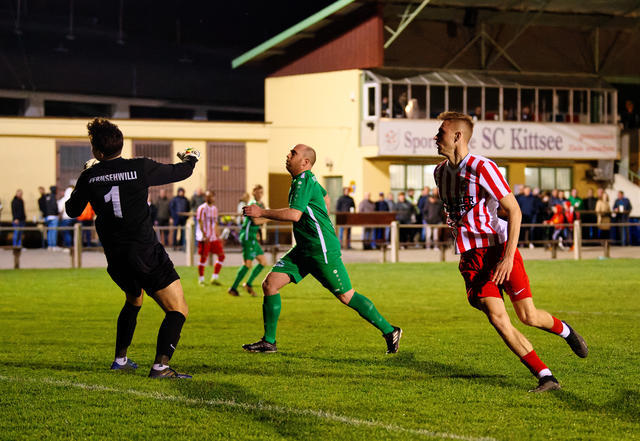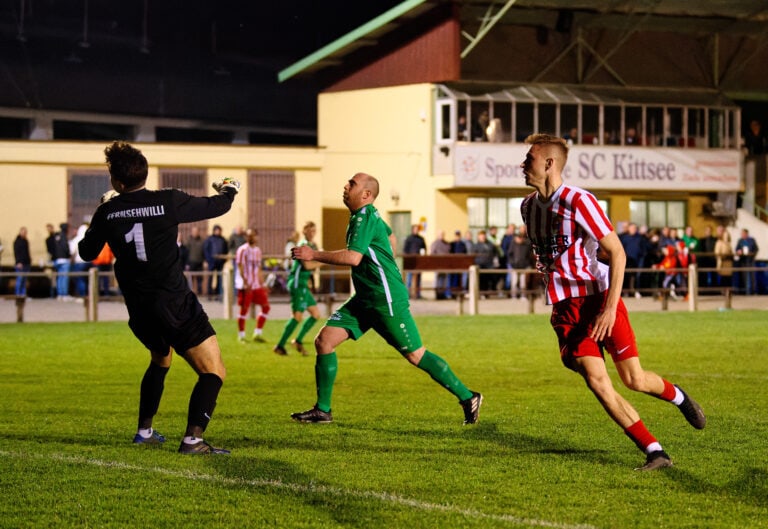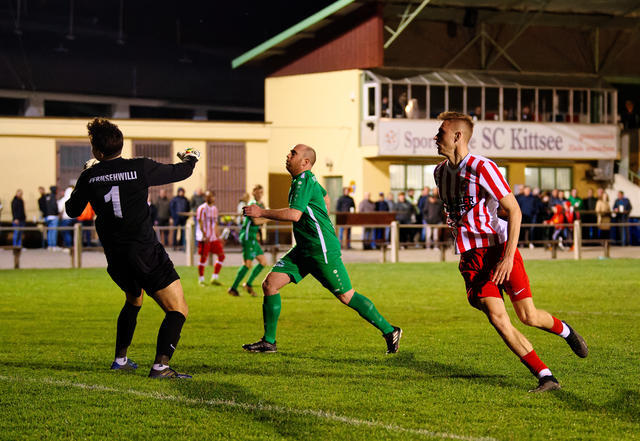 Here is the original D850 RAW file and PhotoLab 6 .dop file for anyone who would like to repeat these test or do their own processing time experiments.
Conclusion
DeepPrime XD is not the game changer, DxO and some photographers make it out to be. There are so many ways to solve this issue of DeepPrime XD color cast on Ventura, it's really up to the photographer to find a solution which suits his/her requirements and budget.
Backgrade to Monterrey (works great)
Use GPU processing (should acquire at least an M1 Pro)
Use DeepPrime (also superb) until the issue is solved
As anyone who works closely with Apple knows, to rail at DxO for deep Apple bugs is howling at the wind, completely futile.
There are issues with DxO for which they deserve a thorough chastising, but those issues mostly concern not allowing photographers to use features or the software at all. Examples:
PhotoLab will not process iPhone (after X) or Android DNG images. This means photographers have to use different software to process their mobile images, which is frustrating for those who are already expert on DxO PhotoLab.
PhotoLab will not process DNG images from a scanner. This prevents museums from using PhotoLab as their image processing tool.
PhotoLab will not allow photographers to manually download and set a lens for a specific lens (very helpful for those of us using vintage lenses, who know which close matches exist for our Nikon AI 20mm f4 or Leica Summicron 90mm lenses. This deprives of two of PhotoLab's best features lens correction and lens sharpening.
Sadly with these issues, there's no opportunity for the PhotoLab photographer to work around DxO's block. In this case, the colour cast with DeepPrime XD and Ventura, the photographer has control. S/he can just remedy his or her own situation with the workarounds above.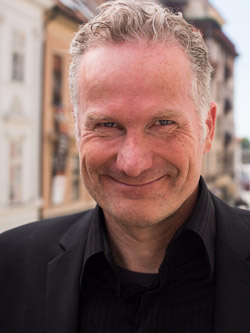 Alec has been helping businesses succeed online since 2000. Alec is an SEM expert with a background in advertising, as a former Head of Television for Grey Moscow and Senior Television Producer for Bates, Saatchi and Saatchi Russia.