DuckDuckGo users including most of us at Foliovision were shocked on 11 March to wake up to a tweet from DuckDuckGo CEO Gabriel Weinberg that DDG would be filtering out alternative media sources: "At DuckDuckGo, we've been rolling out search updates that down-rank sites associated with Russian disinformation."
We would like to hear both sides of the story, and until recently, we felt DuckDuckGo helped us access all information and not just US security establishment and MSM approved sources. Weinberg's tweet prompted us to more carefully examine DuckDuckGo's and specifically Weinberg's record on privacy and independence more carefully. We were shocked by what we found and think that other privacy-minded thinking adults will be too. We'll start at the beginning.
DuckDuckGo might be the most popular search engine focused on user privacy and source diversity. As a newcomer in September 25, 2008, its mission was set clear: no tracking, no profiling, and the aim at independent web crawler, only partially backed up by variety of other sources. Thanks to this narrative, DuckDuckGo has been steadily gaining popularity ever since its release. Especially in United States – known for heavy public surveillance – DuckDuckGo's popularity curve is on the rise, witnessing major boost after Snowden's revelations and PRISM fears.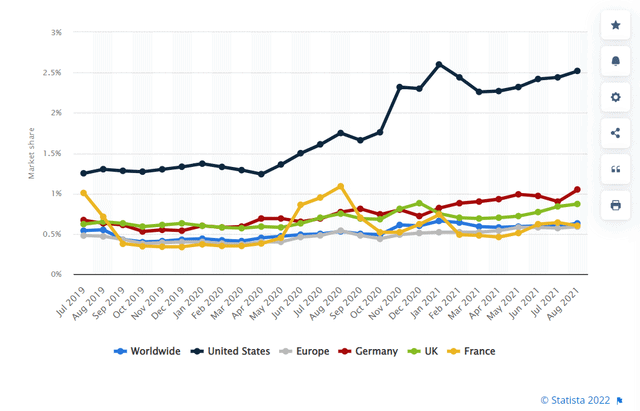 But is DuckDuckGo really a right answer to the online tracking and search bias concerns after all?
What precedes the "privacy mission"
Google, Bing, and Yahoo (i.e. the most used search engines) were always spywares, tracking its users all across the web, even sharing the user data with third parties (governments not excluded). DuckDuckGo was supposed to fill the gap of the search engine which is not part of the above. Taking a closer look at its founder, Gabriel Weinberg, though, only suggests that the whole privacy formula is nothing less than a business pivot after his previous business sold out.
In 2003, Gabriel Weinberg tried his chances in the ante-Facebook waters of social media. Taglined as "Making the World a Smaller Place", now defunct social network Names Database was indeed making world smaller by making tracking bigger. To gain access, one could either pay a fee (yes, that time internet services were not as commonly free as today), or submit several email address' of their friends along with personal information to gain access. According to Opobox Inc (legal name of Names Database before acquisition) ToS, this is what happened afterwards:
You grant Opobox a non-exclusive, worldwide, perpetual, irrevocable, transferable, royalty-free right to (a) use, copy, distribute, transmit, publicly display, publicly perform, reproduce, edit, modify, translate and reformat Your Information in any media now known or not currently known, and (b) sublicense these rights, to the maximum extent permitted by applicable law. Opobox will not pay you for Your Information. Opobox reserves the right (but not the obligation) to remove or edit Your Information, but does not regularly review Your Information.
Apparently, Weinberg's Names Database itself was directly opposed to what DuckDuckGo is supposed to stand for. What's worse, this social network was then sold over for $10 million to Classmates.com, wholly owned subsidiary of United Online, in March 2006. Needless to say, Classmates.com was also not a privacy friendly data processor. After all, Classmates.com openly confirm that they collect all kinds of sensitive data and even share it with third parties, such as affiliates and brands as well as third-party advertising companies and ad servers. Unsurprisingly, United Online Inc., the owner of Classmates.com, was a company prolific in online advertising.
So what did Gabriel Weinbeg actually do? Founded a data harvesting company, which he sold over to another data harvesting company, owned by yet another data harvesting company. Having a track record of "expert data harvester", he then founded a search alternative to Google and the competition has started.
DuckDuckGo: privacy violations
Contrary to their strict privacy policy, DuckDuckGo were caught violating it several times. The first one to do so publicly was Alexander Hanff, a CEO of Think Privacy and data security and ethics expert at Singularity University. Although DuckDuckGo is adamant that they don't set any cookies or other tracking technologies, Alexander Hanff found out that they indeed use a cookie called user_segment. This cookie was subsequently removed, however, only after the exposure.
After the cookie debacle, DuckDcukGo was exposed violating their own privacy policy for the second time, now on the Whonix forum. The user claims that DuckDuckGo uses fingerprinting by Canvas DOMRect API. Thus goes the accusation:
DuckDuckGo is using the Canvas DOMRect API on their search engine. Canvas is used to make unique geometry measurements on target browsers, and DOMRect API uses rectangles. This can be verified with the CanvasBlocker Firefox add-on by Korbinian Kapsner. DDG has recently been redirecting some website navigations to cute pictures with remarks about their privacy promises. The organization is now seeking to expand their Internet presence. DDG are without question data brokers, and commercial websites that make promises like DDG does will not survive for long if they actually keep them.
While calling DuckDuckGo data brokers might be still a bit too far-fetched, what's interesting is DuckDuckGo's response pointing toward their privacy policy, after this revelation became viral on Reddit: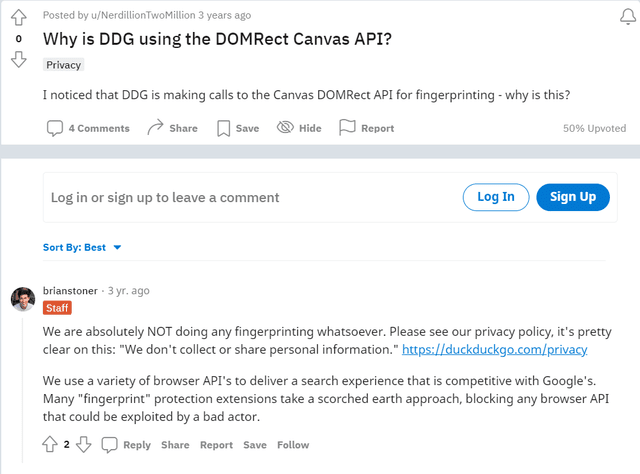 After the storm of online discussions about DuckDuckGo fingerprinting its users, both CEO Gabirel Weinberg and Head of Search Brian Stoner denounced such claims in the TechCrunch interview. Whether or not DuckDuckGo indeed fingerprints and tracks its users or not is still not so clear. In result we have to take a guy of privacy abuse history for word, because although DuckDuckGo is advertised as an open source software, it's once again not completely true.
In 2019, DuckDuckGo's software engineer Chris Brind took part in FOSDEM conference (Free and Open source Software Developers' European Meeting), where he gave an extensive speech about DuckDuckGo's dedication to privacy and open source mission. Brind left prior to the scheduled Q & A session. While DuckDuckGo is released as a Free and Open Source Software (FOSS) under the Apache 2.0 licence, the primary search core is proprietary.
Advertising and affiliates
DuckDuckGo claims not to sell nor gather user data, it generates revenue via advertising and affiliate programmes instead. But who are these advertisers and affiliates? In short, companies notorious for utter disrespect toward privacy. The most prominent company DuckDuckGo uses advertising network of is Microsoft. Similarly, TripAdvisor is another of their ad partners. On their website they assure visitors that the advertising system they adopted is completely private, but what they forgot to mention is that after clicking on the ad and subsequent redirecting, all that happens is no longer subject to DuckDuckGo's privacy standards.
Microsoft Advertising does not associate your ad-click behaviour with a user profile. It also does not store or share that information other than for accounting purposes.
Similar goes to their affiliates like Amazon and eBay. And the one who really stands for digital privacy would hardly strike an affiliate deal with a company like eBay, which is port scanning its visitors by collecting IP addresses and user agents in an attempt to track users all across the web.
Finally, the affiliate partnership with Amazon and eBay is foremost the matter of principle. If I'd personally stood for a certain value, whether it's privacy, open web or freedom of speech it wouldn't be welcome to see me partnered with those who extensively violate such values. Talking about privacy and partnering with Amazon/Microsoft is like advocating for ecology and partnering with deforestation magnates.
Search (in)dependence
As a frequent (former) user of DuckDuckGo I can tell that the source diversity of this search engine has become no better than Google's over time. Conducting parallel searches I can clearly tell that the political profile of DuckDuckGo is pursuing Google/Bing archetype, although the company claims to be clear of any political ideology.
DuckDuckGo was never meant to be alternative to Google, rather its competitor. While search neutrality really isn't a part of the narrative, privacy formula certainly is. And even this sales bullet went astray. Furthermore, now that DuckDuckGo decided to follow suit with Google in eliminating alternative media sites [censoring mainly pro-Russian results], there's little reason to trust DuckDuckGo's dedication to the unbiased and private access to information. Their Vice President of Communications, Kamyl Bazbaz's statement speaks for it all:
Privacy is our top priority, not supporting any particular political or ideological point of view. This isn't censorship. It's just search rankings.
To say that it's not censorship, just search ranking is the same to me like saying it's not surveillance, just tracking. DuckDuckGo decided to pause its partnership with Yandex, from which it was sourcing page results in Russia and Turkey. They also promised to downrank results spreading misinformation and propaganda.
The ostensible watershed event which motivated Gabe Weinberg to bias the DuckDuckGo search algorithm against alternative media was Russia's special military operation in Ukraine.


The specific goal is to remove any Russian media, including English-language RT.com and Sputnik.com from DuckDuckGo but the censorship has been much wider-reaching. Apparently, we are not the only one to spot the censorship in DuckDuckGo's search results. Moreover, this is not the first time Gabriel Weinberg contracdicts himself. As spotted by the user Nik on Twitter, Gabriel Weinberg has serious problems with consistency: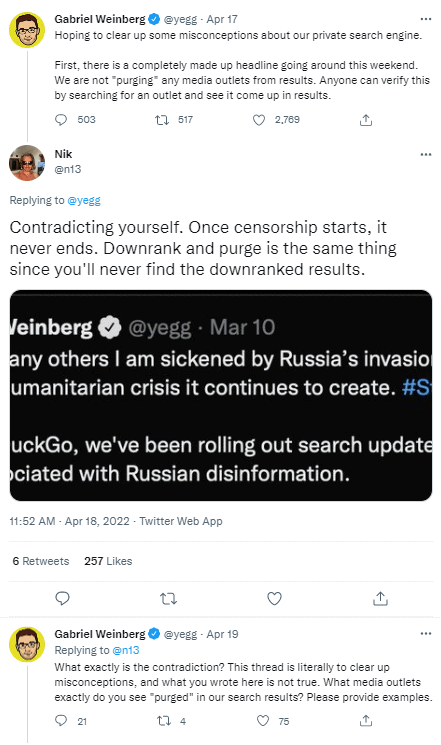 So Weinberg asks for the evidence of "purged" media outlets? Here are some: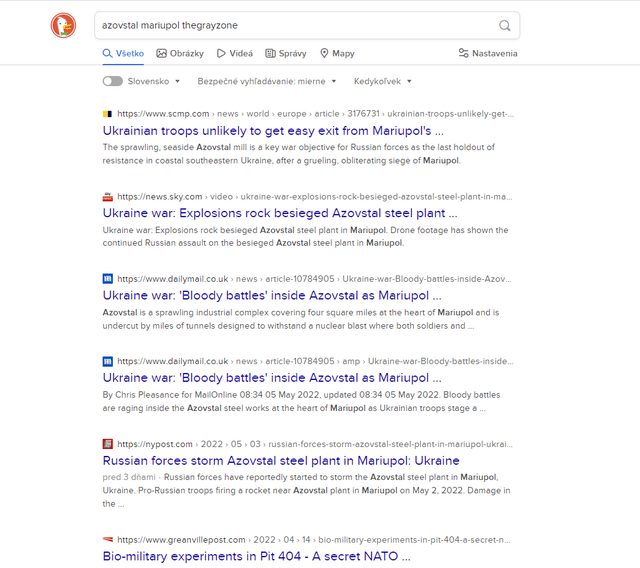 Well, The Gray Zone is obviously one of "those" media outlets. How about some others?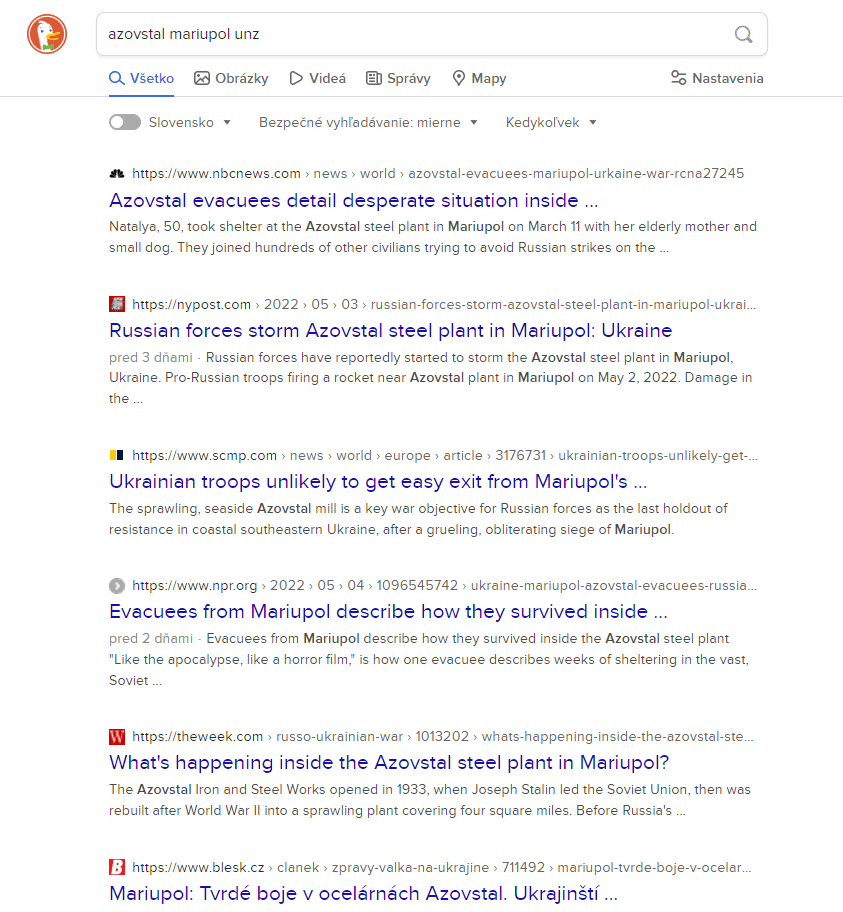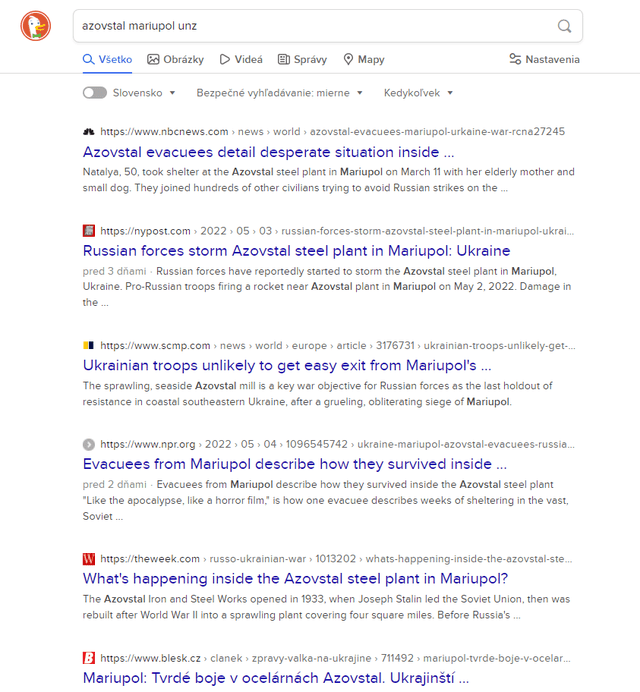 As we can see, the search results are exclusively dominated by the mainstream media, despite the very specific query. What if I ask for The Saker?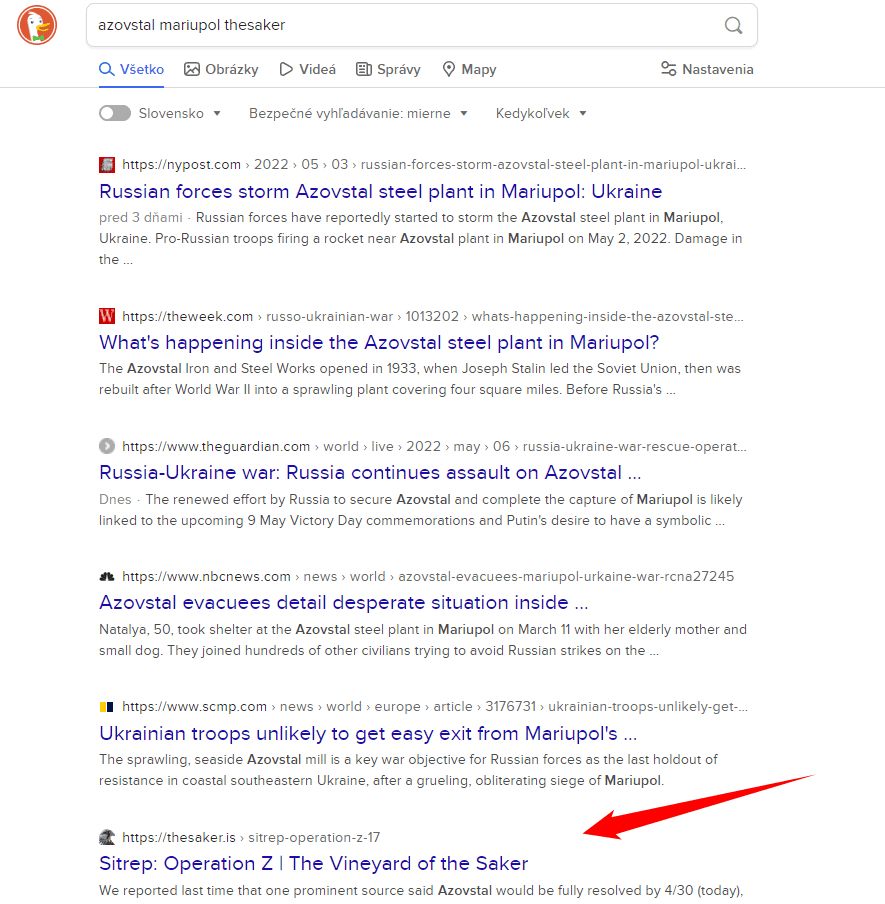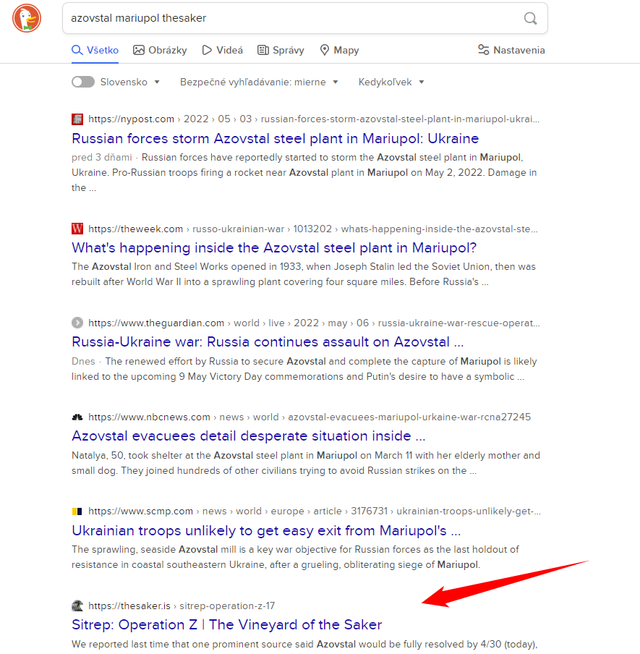 Now we can clearly see that DuckDuckGo ranks certain media outlets lower than the others. While it's certainly important to be able to differentiate reliable sources from third-rate gutter press, what is and what is not propaganda should be up to individual users and their critical thinking to decide rather than the search engines by deliberately skewing the search algorithms.
So is this a censorship or not? Seeing Oxford References' definition of censorship, it surely is.
A regulatory system for vetting, editing, and prohibiting particular forms of public expression, presided over by a censor
After all, most likely the evident search bias (i.e. censorship) has quite a lot to the with Microsoft. While DuckDuckGo has its own crawler called DuckDuckBot, its results are still significantly impacted by Microsoft Bing. Microsoft has recently taken harsh steps against websites associated with Russia or pro-Russian narrative, which leads to a very interesting point of view presented by Stuart A Thompson:
DuckDuckGo has little control over its search results because they are provided by Microsoft's Bing, which announced that it would follow the European Union's order to restrict access to the Russian state news agencies RT and Sputnik
Scrolling through DuckDuckGo and Gabriel Weinberg's Twitter account it quickly becomes apparent that his and his company's affinity toward black and white worldview is inevitable part of DuckDuckGo's search results: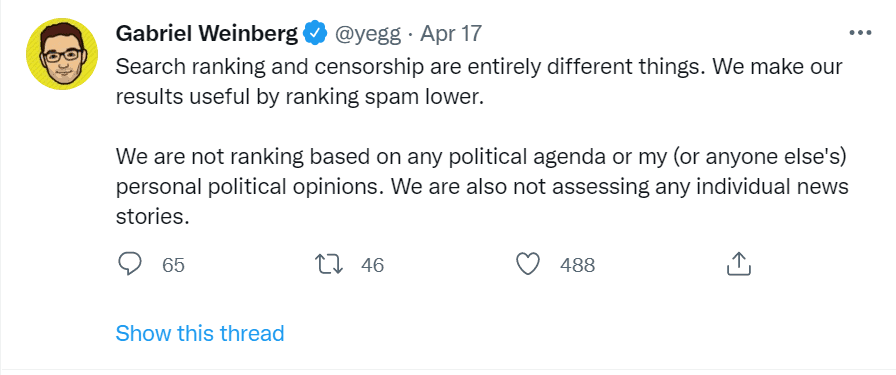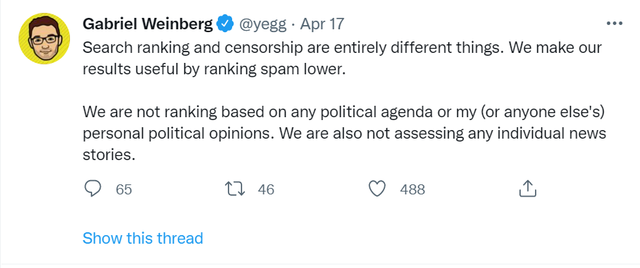 In result, DuckDuckGo has given the world little reason for trust. And since trust is difficult to gain and so easy to lose, DuckDuckGo is ahead of a long way of regaining my trust. Who would say that three years later, DuckDuckGo would go down the same road as Google they used to criticise on Twitter: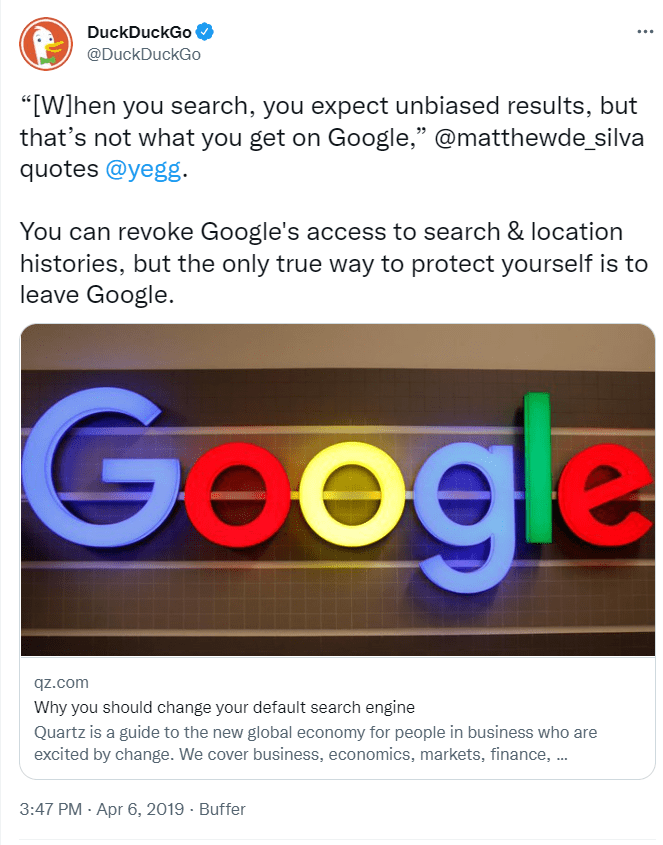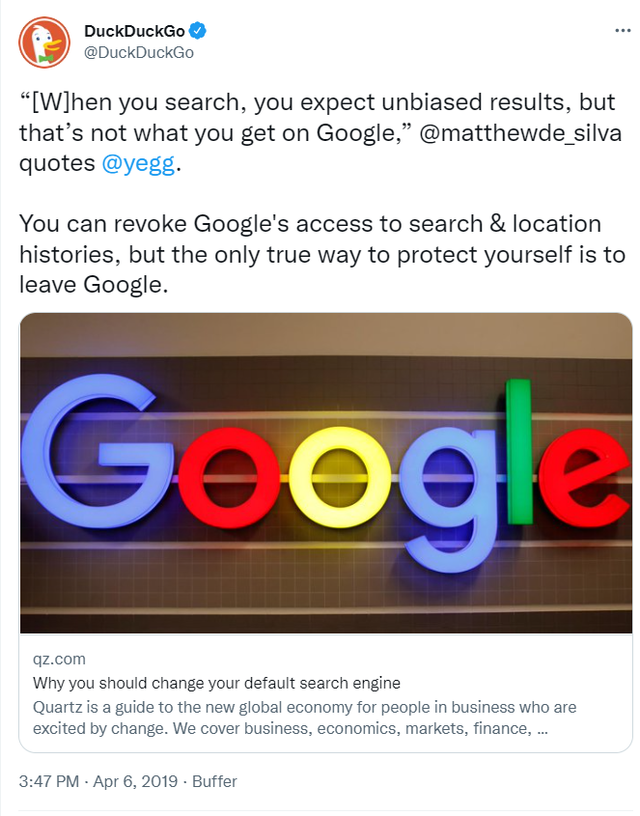 It's truly time to ditch Google, Bing or Yahoo, and welcome DuckDuckGo in the same club Qwant has become part of.