Disqus is the US-based network community platform providing comment system for hundreds of thousands of sites all over the web. Disqus takes pride in providing many reliable features such as social network integration, advanced administration, moderation options, and other extensive community functions along with ad system.
So far so good. While Disqus might shine on paper, harsh reality strikes back as soon as you encounter any issue with their service or community. From petty problems to law infringements, Disqus doesn't care and ignores its users. Here's our first-hand experience with Disqus.
It all started with the troll
One day in the comment section of RT.com, which used to utilise Disqus services (abandoned them just recently), an anonymous profile with @disqus_pxE9rjRq9s Disqus ID started to harass one of our team by using his copyrighted avatar for publishing hateful and outright idiotic comments. At that time, the profile was called Jon Del, so its unlawful behaviour was restricted "only" to copyright infringement, hate speech, and defamation – not the full impersonation yet.
Shortly after the same profile started to use the full name of our team member along with the same avatar, while increasing violence in the comments.
In spite of several reports of this profile Disqus didn't act, which made me reach out directly to their moderation team.
How does(n't) the reporting work?
Failing in reporting and getting taken care of abusive comments and profiles is usually three-fold. In general, Disqus will direct you to a page on User Reporting or How to Report Abuse. The next step leads to the related documents section where you'll find How to contact a Site Moderator, which will redirect you to the page explaining who the site moderator are.. In result, after browsing in a loop through their website, the only thing you'll learn is that there's practically no way to contact a site moderator directly, even though Disqus claims otherwise.
You can contact the site moderator through a Contact page, commenting policy, or community guidelines. Site moderators are not Disqus staff and should be contacted at the site in question, as opposed to through Disqus. Please note that sites are not required to provide contact information and, in cases where they don't, Disqus will not be able to put you in contact with that site's moderator.
What Disqus offers instead is just a means of basic reporting or flagging of either comments or profiles violating their ToS. From (not only) our experience this method doesn't work. Several other profiles having such troubles also complained about the absence of site moderation of Disqus whatsoever.
Beware of those who provide no support
After having hard time finding any suitable email address to get in touch with Disqus support team, I managed to fish out two addresses, carefully hidden on their website. In fact, Disqus is a website consisting of pages locking visitors in a loop that finally leads to no answers one is looking for. In case you require a proper moderation of ToS violations, there are two different places to learn more about.
One of them is How to Report Abuse, another one is Site Moderators, although none of them provide much information about actual means of contacting a responsible employee. For extreme cases they also provide How to report threats of suicide or self-harm. Unfortunately, not even here one can find anything useful to get their trouble solved.
Cynically enough, Disqus decided to outsource responsibility for threats of suicide or self-harm to third-party prevention programmes:


Finally, although the route there was excruciating, I sent a comprehensive legal email to all the email addresses Disqus claims to maintain (privacy@disqus.com, moderation@disqus.com, DMCA@disqus.com) to report impersonation. Impersonator's behaviour in fact violates a number of official Disqus statutes:
– Copyright infringement

– Targeted harassment or encouraging others to do so

"Hate speech and other forms of targeted and systematic harassment of people have no place on Disqus, nor do we tolerate communities dedicated to fostering harassing behavior."

– Impersonation

"You may not impersonate others in a manner that does or is intended to mislead or deceive others. Accounts portraying another person in a confusing or deceptive manner may result in your account being globally banned."

– Direct threat of harm

"This covers active threats of harm directed towards a specific person or defined group of individuals. Contact local authorities if you feel a crime has been committed or is imminent."
Not only did I not get an answer, my emails bounced, so Disqus didn't receive my complaint. This raises a reasonable doubt whether they only employ someone responsible for tackling these things. Looking deeper into the topic I wasn't shocked to find out that there really is a forum called Pissed Customers, awarding Disqus with very unfavourable result:
Disqus ranks 177 of 818 in Media category. The overall rating of the company is 1.5 and consumers are mostly dissatisfied.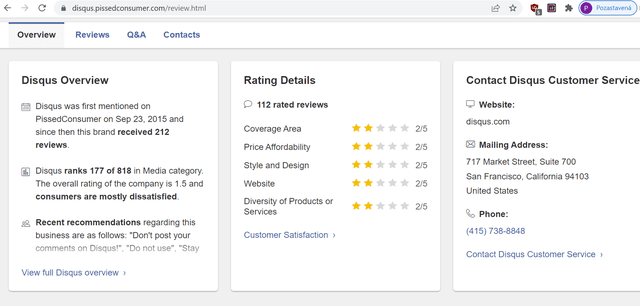 Next, Trustpilot also has some very unflattering reviews regarding Disqus moderation: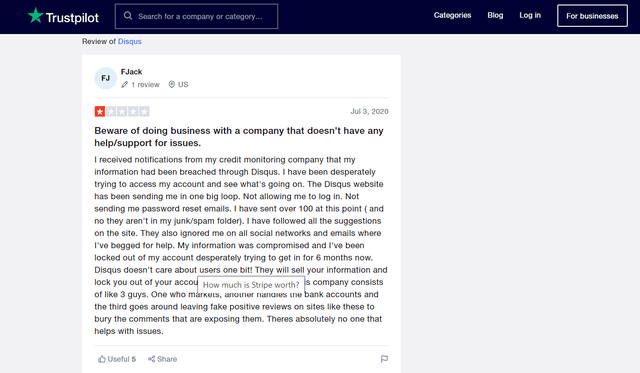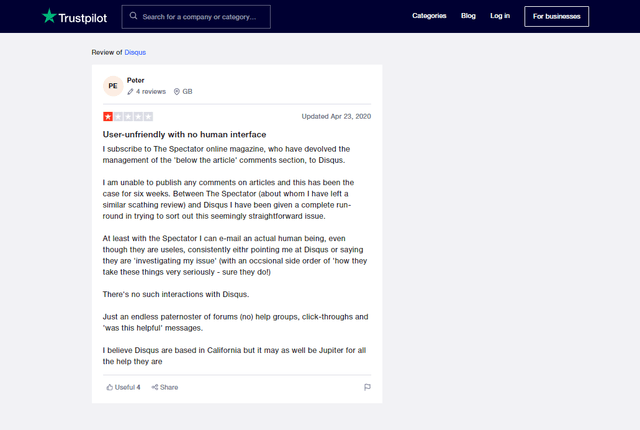 This is just a natural result of how the discussion forum on Disqus works. Let me explain. For instance, our team member is by far not the only user who was faced with this malpractice. How did Disqus respond to the objections of their users? Take a look: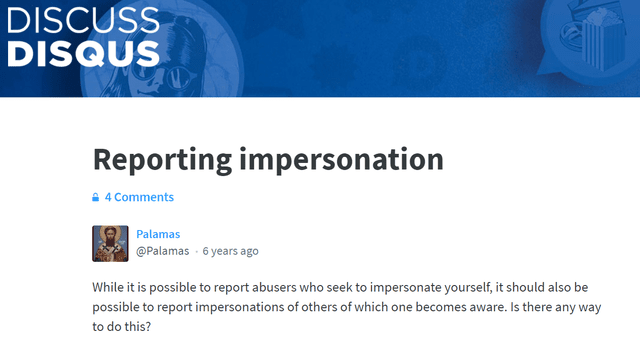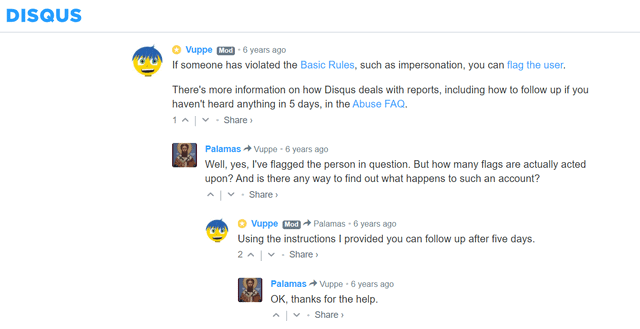 Another one: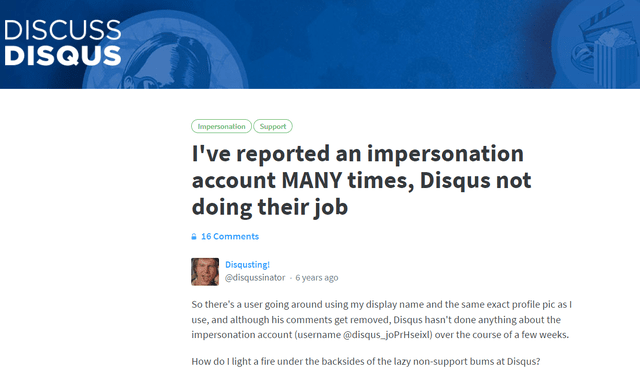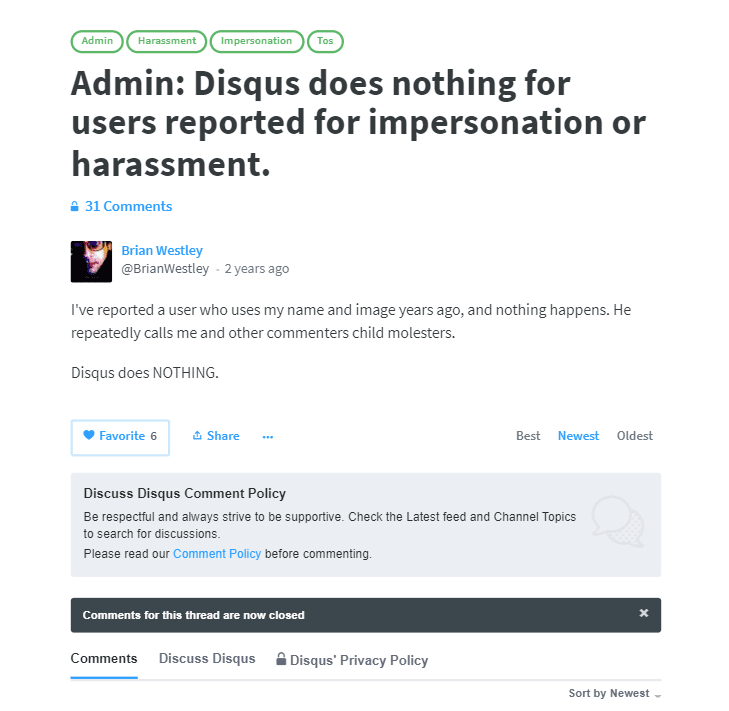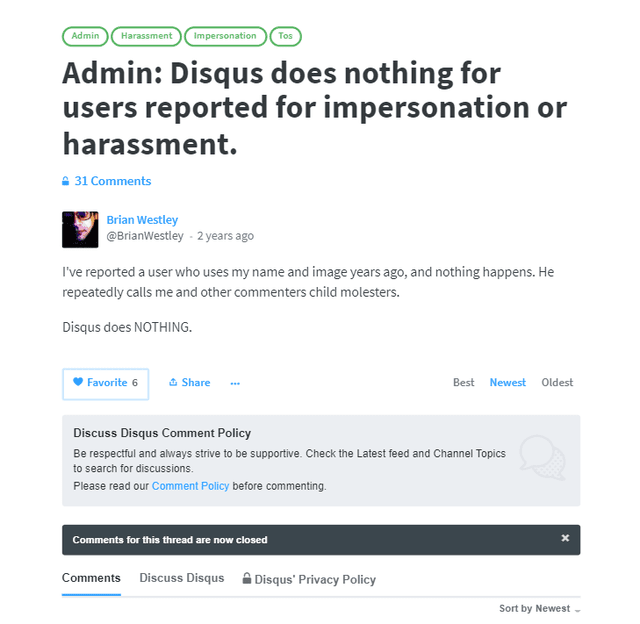 Once again, just take a look how effectively Disqus got rid of any responsibility via Vuppe, which even claims is not the employee of the company.
While Disqus evidently cannot be trusted, light at the end of the tunnel is here nonetheless.
Two companies, different approach
RT.com, curiously, handled our complaints about impersonation much better, answering the same day. Unlike Disqus, RT.com provides a visitor with several ways how to get in touch with them easily.
Here's their answer.

And truly, Jon Del/Autistic Loon get banned from RT.com comment section. After the Jon Del/Autistic Loon ban, it appears our team member was banned for spam. It appears Jon Del/Autistic Loon belongs to an organised group of comment vandals (also known as trolls) and one of their tactics to eliminate opponents is to report six weeks of comments one by one as spam en masse. RT's moderation team committed to remedy the situation.
Subsequently RT removed Disqus from their site, replacing it with Tolstoy Comments (which has its own issues), making the situation somewhat moot.
We've outlined above some serious security issues and troll management issues which every publisher using Disqus should keep in mind. Victor Zhou covers some other downsides of Disqus outside of the almost complete absence of support.
Foliovision's recommendation with comments is two-fold:
host your own comments. We've written and shared some open source software to allow publishers to better manage comments on WordPress, even in political, sport, celebrity and/or other heated subjects: Thoughtful Comments.
pre-moderate all comments. Do not allow anyone to post comments which are either smart-alec one-liners, obscene or simply do not contribute to the conversation (i.e. hot air).
Newspapers have always moderated letters to the editor and website publishers should do the same. The goal is not to censure but to make your comments section relevant, insightful and worth reading.