Silicon Valley is reknowned as the world's most famous tech hub. Over the last fifty years, a 25 mile stretch of dust, technological parks and offices in The Santa Clara Valley has become a $3 trillion neighbourhood, home to tech giants like Apple, Google, and Tesla.
Before Leland Stanford founded a university named after his son and Frederick Terman, arguably the father of Silicon Valley as we know it now, joined the faculty to build up a top tier electrical engineering programme at the university, Silicon Valley used to be agricultural stretch of fields.
Silicon Valley dominance among unicorn startups (over $1 bllion dollar valuation) has been extreme over the last two decades. Many US VC evangelists warn European startups that if "they don't have an [expensive] office in the valley, they may as well not exist. There is no hope to reach unicorn status."
future challenges
Arguably, each major wave of technology innovation has given rise to one or more super-unicorns ($100 billion or more). On average, since 2003, four unicorns were born in USA per year, which makes only 0.7% of all the tech startups founded since, according to Aileen Lee. While the likeliness is infinitesimal, underlying factor of such a huge success appears to be a technology wave which precedes the founding of a super-unicorn.
For instance, 70s brought us personal computer, 80s a new network world, while 90s are known for the birth of modern internet, which led to the dawn of modern social networks in 2000s. Each of these technological waves made a perfect environment for a respective tech company to thrive, while some them even broke the benchmark of 100 billion value.
The seventies created Apple and Microsoft. The 80's brought Oracle and Sun Microsystems. The 90's birthed Google. The 2000's created Facebook and Amazon.
How can Silicon Valley remain at the centre of each technological revolution? Can the revolution move elsewhere?
Market saturation
Silicon Valley's unprecedented success is based mainly on its unique arbitrage of thought, culture and research, thanks to which it can still thrive despite the uncompetitive costs of living. The market may witness a great change in following years, because of the lack of customer intent in "high-tech" segment – Fintech, followed by SAAS (Software-as-a-Service) e-commerce, artificial Intelligence, Healthtech, Cyber security and Biotech – all of which are the fields of currently the most thriving unicorn tech companies.
Tory Green and Tiller Partners argue that this field of innovations is oversaturated and new directions will have to be explored to sustain the growth, which can help another tech hub compete and eventually reclaim Silicon Valley's legacy in future. They support this presumption by the fact that smartphone users, for example, spend 84% of their time on just five apps, while almost two-thirds of consumers fail to download any apps in a given month.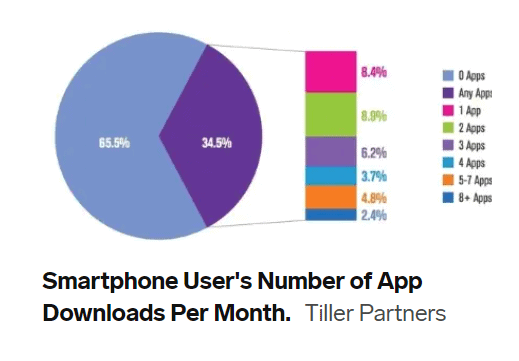 source: https://www.businessinsider.com/the-next-big-unicorn-wont-come-from-silicon-valley-2017-1[/caption]
Researcher Tim Wu, the author of the book The Master Switch, studied the long term trends in information technology and found that disruptive technologies tend to become closed and consolidated over time.
Most likely the next wave in technological innovations might be focused on the application of artificial intelligence to the broader marketplace. Tory Green and Tiller Partners see the future of AI implementation in areas such as autonomous cars. Link it to the switch to electromobility as an alternative to diesel and gasoline cars, a whole new spectrum of future innovations surfaces. With the EU's plan to reach carbon footprint neutrality and potential ban on diesel and gasoline vehicles by 2035, it's possible that the next technological revolution will be in the auto industry and not in fintech or e-commerce.
Big Tech regulation incentives
Moreover, except for customer intent saturation, Big Tech is facing a backlash for their monopoly nature. In US, more than 30 states file suit demanding breakup of Google. Amazon and Apple are also no exception, given the fact that they remain under federal antitrust scrutiny. European Union is also not oblivious to Big Tech market practices, threatening to impose fines of up to 10 percent of companies' revenue. This arises from the proposal known as Digital Markets Act and Digital Services Act, according to which, massive online platforms like Google, Amazon, and Facebook will face new limits on how they can expand their online empires.
Will these Silicon Valley cribbed giants see the change in their current market behaviour, or will they thrive in future as they do now? We will see, but US as well as EU incentives to regulate them more strictly might not just be cheap talk.
Costs of Living
It's commonly known that Bay Area housing and labour costs are dramatically increasing, thus many speculations about outsourcing development to less costly regions have been done recently. For instance, very insightful study mapping the real estate market cycles shows us unflattering truth of the costs of living in Silicon Valley and its surroundings.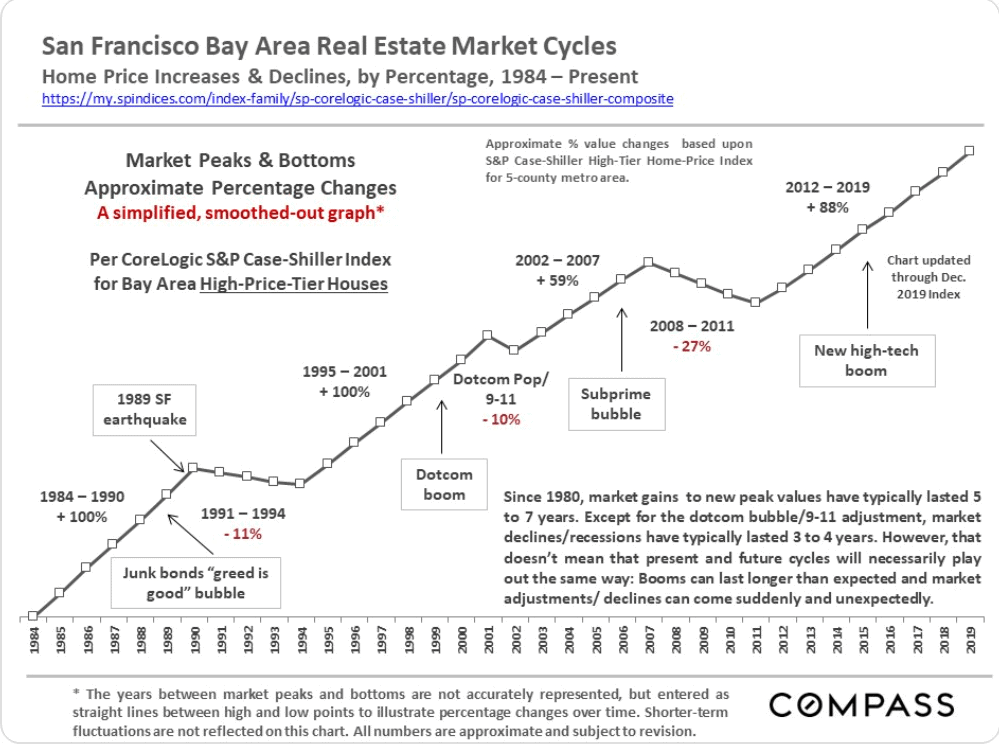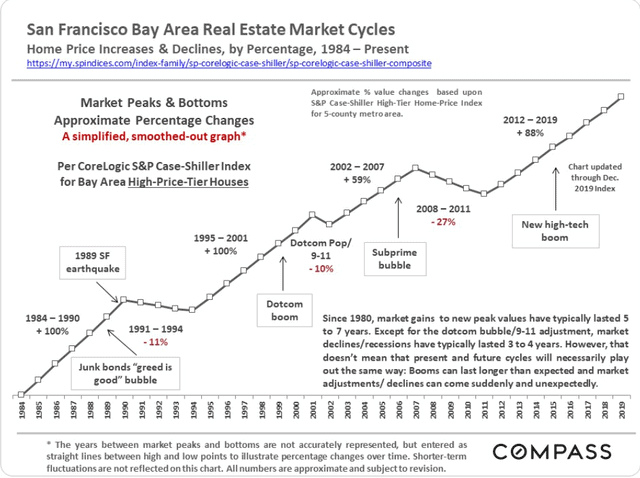 source: https://www.bayareamarketreports.com/trend/3-recessions-2-bubbles-and-a-baby[/caption]
While the area's wealth is increasing and the unemployment rate is on decline, things might not be that bright after all.
The average annual earnings in Silicon Valley reached $140,000 in 2018, a level significantly higher than the state ($81,000) and the nation ($68,000). The number of high-income households (earning $150,000 or more) in Silicon Valley and San Francisco rose by 35 percent over the past four years, while the number of lower-income households declined." The Valley's unemployment rate is at an 18 year low.
This doesn't match the overwhelming costs of living, housing especially, which is expected to grow steadily. Covid-19 pandemic and the introduction of full-remote work culture also left their mark, since many Silicon Valley employees are moving out, because of the financial reasons. Will this lead to the decline of the human capital in long run?
Human capital is miles and miles above everything else. It is, without a doubt, the biggest binding constraint to growth. There's human capital, and then there's everything else.
This insight of Paul Breloff, A Managing Director at Accion Venture Lab, speaks for a lot. After all, America's braindrain activities throughout its history were apparently an investment in the future of growth and this quote only supports it.
China and India to lead the way?
Recently, quite many unicorns appeared to bypass California's Bay Area. Researchers suggest that recently the most fruitful environment for future unicorns is China, while India is also catching up. However, there are also challenges these two countries will have to overcome to be able to represent alternative to Silicon Valley's legacy.
Other indicators suggest that the supreme position of Silicon Valley might be dwindling, while different US regions have potential to take the lead instead – CBInsighte's dataset only proves this claim. However, market changes don't apply only on the United States, since very serious works have predict that the new rise of unicorns will take place in Asia. China, which is already topping the statistics in percentage of native unicrons, and India, still as an emerging economy, shows great potential to crib several unicorns to come, already beating UK:
India has overtaken the UK to come in third place for most unicorns added in the year 2021 at 54, led by EdTech platform Byju's with a valuation of $21 billion, mobile ad-tech firm InMobi worth $12 billion, and hotel platform OYO Rooms worth $9.5 billion. This represents an increase of 33 from last year, according to the Hurun Global Unicorn Index 2021.
According to Statista data, the market valuation of Asian and North American unicorns accounted for almost 90 percent of the total value of unicorns worldwide as of April 2021, while in terms of volume North America had the highest distribution and in terms of overall market value, Asia Pacific is out in front.
The reason for such an extraordinary growth of Chinese unicorn companies can be ascribed to the evolution from an industrial-based economy into a knowledge-based economy, as explained by the researchers. Downside of the results, however, is the necessity of ties to government in China.
Chinese market itself and overall model of their so-called people's democracy, which is basically not ready to embrace the Silicon Valley mindset could cause potential problems in future. One could argue, however, that pursuing the same path as the US most notorious technology hub is not the point here and China could successfully rewrite the story of breeding unicorns in their own handwriting.
But the potential of failure might arise from the built-in political nepotism and links to government figures instead of merit and talent.
Europe used to fall behind. But what are the reasons?
What made Silicon Valley what it is today? In short, nothing Europe, especially EU would be short on. High-quality education, talent retention, history of tech-development and forward thinking – all of this EU has in abundance, but except for London and most recently Sweden, Europe as a whole seems to have hard time competing with the US and China. According to WSJ, out of 150 Unicorns only 12 are from Europe (as of September 2019). Thankfully, Thomas Petersen offered handful of interesting insights into this topic.
First of all, European market is not unified like in case of USA. In fact, there's not a single European market, but many separate markets geographically concentrated in Europe. Another factor that makes European market uncompetitive is legislation, both on national basis as well as "federal" level – or community law in EU terminology.
The European law-making process is incredibly slow, since all of the member states have say in it and several European legislation bodies have to agree on the proposed initiative. Most significantly, EU law-making has strong regulatory tendencies, which tighten the grip on emerging startups who have to face the list of countless EU-enforced requirements. Thomas Petersen offered a spot on (and somewhat funny) glimpse at some of the EU's kafkaesque absurdities:
Recently large vacuum cleaners and incandescent light bulbs were banned. There is now also a proposal to ban halogen light. Recently the EU was looking into banning cinnamon used in cinnamon rolls because of a too high amount of coumarin, known to be causing liver damage if consumed too extensively. There are rules about having to put a big fat disclaimer on your website and have the user approve the use of cookies.
On the other hand, certain places of Europe showed tendency to produce unicorns against the odds. London statistically fares really good, Stockholm is possibly yet another future unicorn-hub, and small Estonia, which has the biggest proportion of startups per capita in Europe has also a unicorn under the belt – Bolt is a shining example of Estonian success story, while several other companies could take the lead in future. Moreover, despite the drawbacks, maybe there really is hope for European unicorn culture after all.
In 2021 specifically, Europe has produced 72 new unicorns, while China only 22. More importantly, 2021 appears to be overall very fruitful year for VC investments, mainly for Europe, according to the Dealroom report:
Globally venture capital investment has smashed previous records with €264B in the first six months of 2021. This represents year-over-year (YoY) growth of 2.3x

Europe is the fastest growing major region by venture capital investment (growing faster than US, China, Asia). Investment into European startups grew by 2.9x YoY to €49B.
Is it possible to crib a unicorn outside of the Silicon Valley?
Short answer is yes. As arises from the aforementioned statistics and studies, there's bunch of unicorn companies scattered all around the globe. More accurately, China and India have some, certain European countries also succeeded in the run for unicorns, while several emerging markets still have reasonable opportunities to witness the rise of $1 billion businesses of their own.
Does it mean that US is overall falling behind? Not really. Of all the countries in the world, US has 853 unicorn tech companies valued more than $1 billion. China and Europe is trailing behind with 280 and 268 unicorn companies. It appears that there's still a long way to run to beat Silicon Valley's still unrivaled position.
More to the point, in 2021 the US produced 275 unicorns, while Europe produced 72 unicorns and China just 22. China's production of unicorns fell by a factor of three in one year, suggesting that sanctions and bans on Chinese companies appear to biting Chinese technology companies at least in terms of dollar value.
Another question about unicorns is whether they are really viable. Many of the US unicorns seem to be mostly VC smoke, bought out by huge multinationals like Microsoft, Google, Apple or Adobe but have no long term effect on the market. For closer look we also published an article comparing valuation and revenue of North American and European unicorns.
If the world is to witness the demise of Silicon Valley, most probably it won't be anytime soon. Thinking big outside the US? Plan to waste a few million dollars per year on a Silicon Valley outpost.