The unique functioning of the Interactive Video Transcript feature is one of the main sources of praise for FV Player. Yet, we are always trying to make even the best features better than before.
That is why we're happy to announce that the Interactive Video Transcript feature is now supported in playlists too. We have also added a "Preserve original formatting" setting which prevents automated formatting of the transcript text.
To get these features, you have to use FV Player Pro 7.4.38.727. beta version, or higher.
---
Interactive Transcript in Playlist
You can try out how the Interactive Video Transcript feature works with playlists here: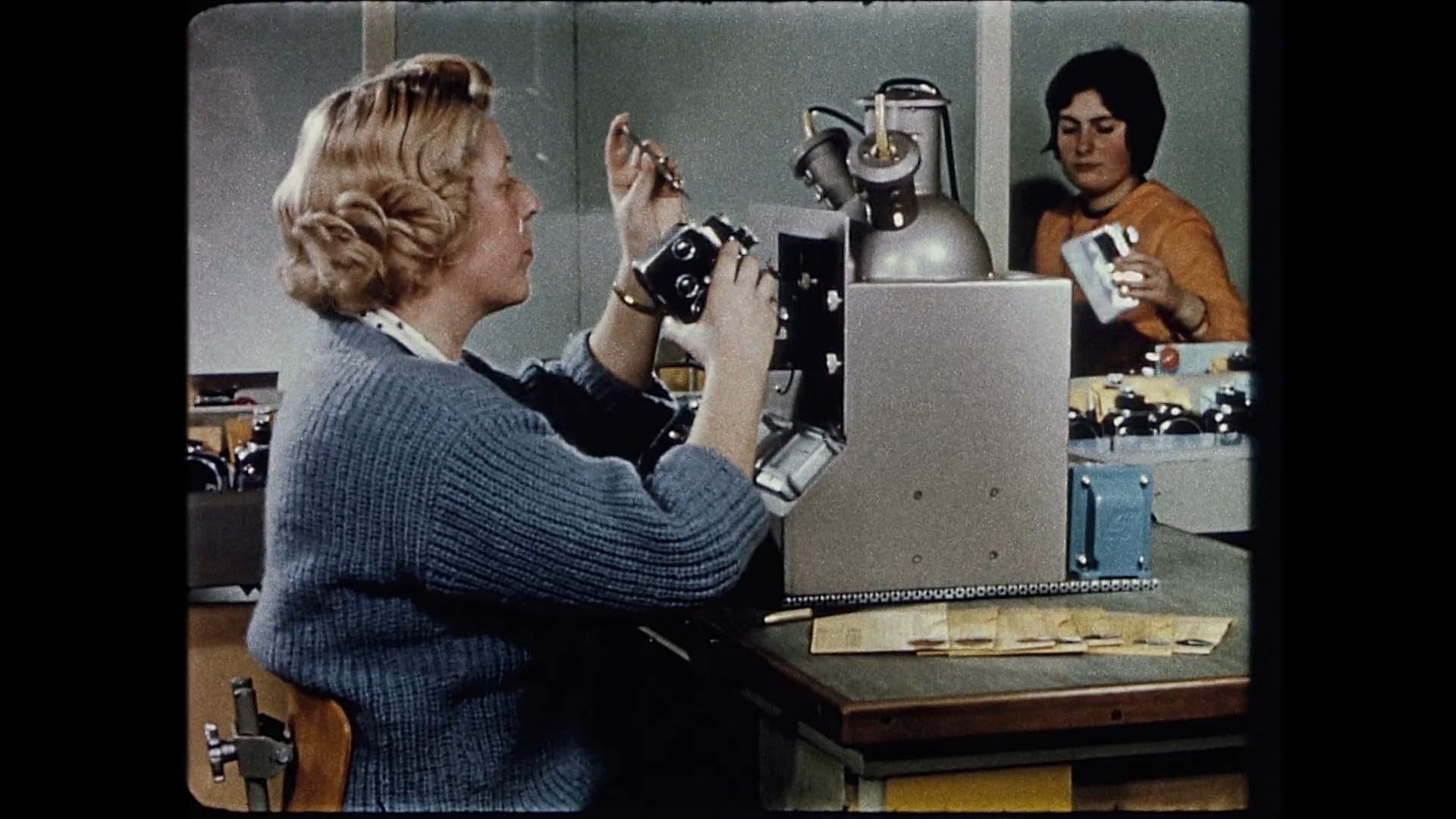 I'm retired but if there is some work to be done I come over and give a hand.

I started 46 years ago.

At every flash, it is a picture that is born inside of this magic box.

conceived with incredible precision by a team of technicians

that inherited a 150 years old tradition.

When I saw the assembly lines I thought I could never work here.

Doing a repetitive work all day long was not for me.

A high precision camera must roll the film with unfailing regularity.

At that time being hired by a big company like this meant life time employment.

As long as the company lasted anyways. We had employment security at the time.

Here we do not pay attention to how much time is needed.

The technician patiently tweaks the springs of the speed regulator,

that he mounts, unmounts, and mounts over again,

looking for the perfect amount of tension.

A true watchmaker's work.

I assembled hundreds of cameras.

We were asked to do things properly.

The goal was to satisfy the client as long as we could.

Regardless of the saying, quality is not controlled, it is built.

The final quality control is pushed to the most extreme limits.

Each camera is quality controlled according to draconian guidelines

In the small cameras assembly lines were mostly working women.

They were supposedly more agile than men were.

But I am under the impression that their salary was much lower.

Bolex always has been a noisy camera.

It was the main disadvantage of these cameras.

If you wanted to record sound next to the camera that was an issue.

The camera sound was overwhelming, the noise of the mechanics was overwhelming.

If you want to see if the camera is struggling

you set them to 64 frames per second,

you slow down the friction of the rewinding and you let them slow down.

When some get to the end they sometimes go « … »

Paillard Bolex is the symbol of a renowned range of cameras

capable of capturing life as well as reproducing it on the screen.

Commented with voice recordings or complemented with orchestra music.

Devices ranging from the simplest to the most advanced.

Designed for the beginners as well as for the advanced users,

equipped with refined and efficient improvements.

Paillard the camera of the connoisseurs.
Preserving Original Formatting
In order to prevent automated formatting of transcript text, go to the subtitles tab in the shortcode editor of individual videos in the playlist and tick the "Perserve original formatting" box under the Transcript field.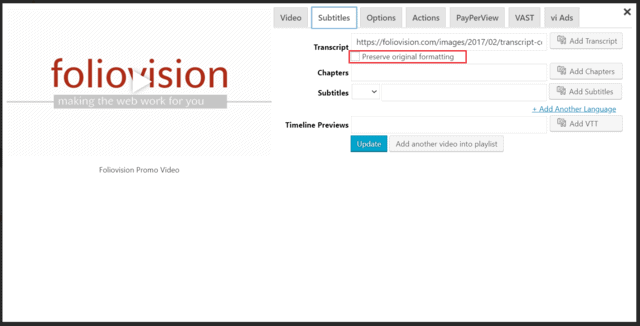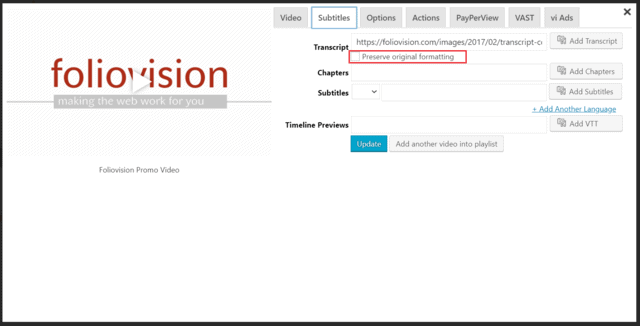 This setting comes in especially handy for videos with many dialogues. In the playlist below, there is the same video twice. The video is one of Vimeo staff picks and the subtitles are automatically parsed from Vimeo.
In the first video, the setting is not enabled, therefore, the transcript text shows up in large chunks. In the second one, the setting is enabled and the transcript distinguishes the dialogue clearly: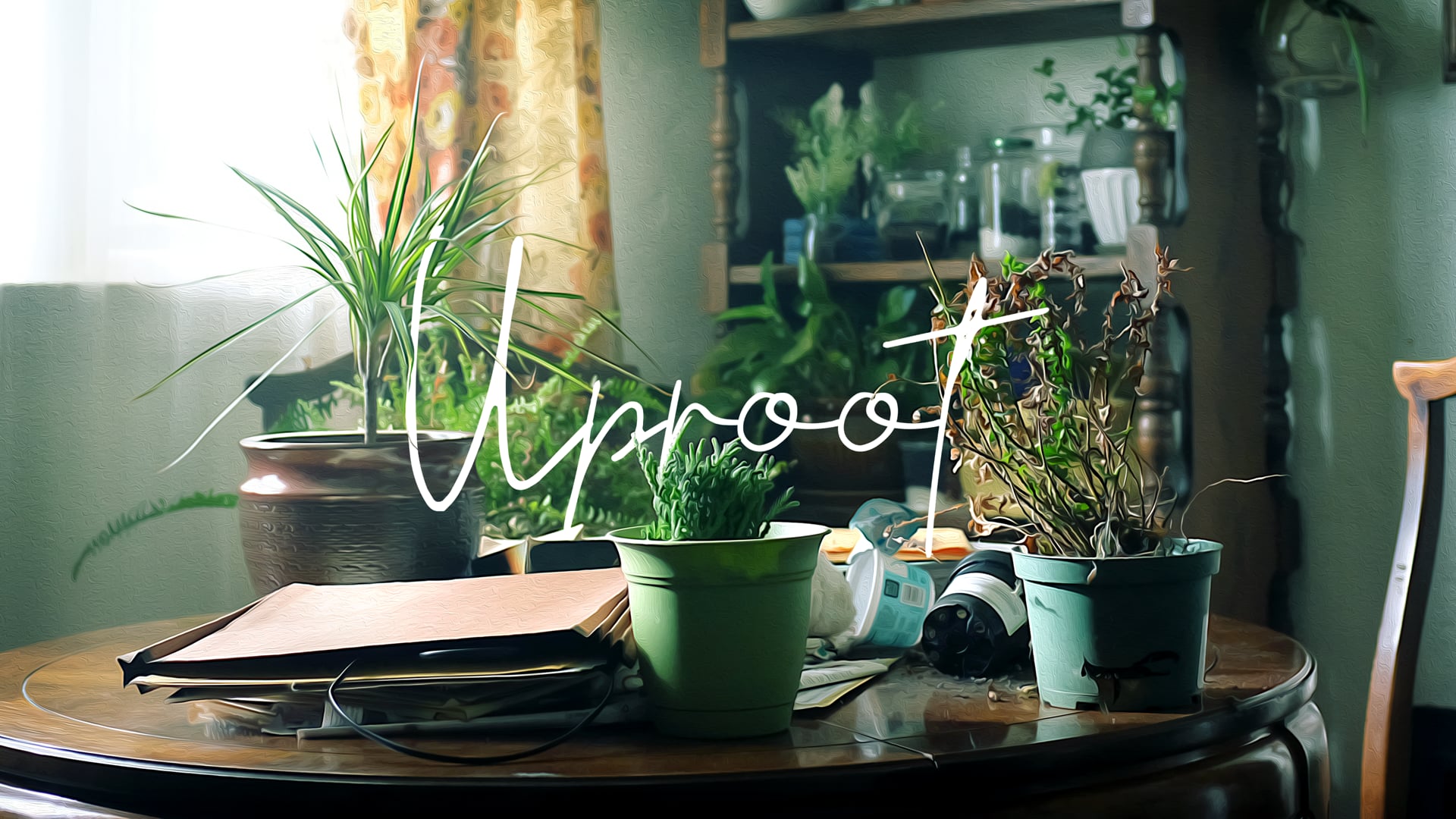 La notaria tanca a les cinc. Saps on és?
Hi haurà molt trànsit.
Sí, hi seré i ho faré.
És molt important, Nina...
-Lyddie, calla sisplau! -Perdona?
-La mare que... -Què ha passat?
No ha passat res, d'acord? Escolta'm, ho sento,
si hi vaig emprenyada, no vindrà amb mi.
T'estimo molt, però relaxa't. M'estàs tocant els pebrots.
Entesos, com vulguis, ja hi has arribat?
És un merder, oi? Tot això és insuportable.
Hi ha molta cosa per reciclar i caixes arreu.
Però tot segueix al seu lloc.

Se me'n foten els veïns. Ja són grandets.
-S'ha mort algú a la família. -Són els afores,
la gent només pensa en ella mateixa.
Ei, com va?
-Què passa? -Sóc la Nina.
-Amb qui parles? -Un plaer.
Són els veïns, són raríssims.
Quins veïns? Els del davant?
-És la família Addams. -Tens els documents?
-Sí, collons. -Molt bé.
Els documents són importantíssims
per tancar el tema.
-Ja ens ha fet perdre prou temps... -Escolta, Lyddie.
Lyddie, entraré a la casa,
li faré firmar el paper i ja està.
Com hem parlat.
Vinga, t'estimo. Adéu.
DESARRELAT

Collons!
Això és una selva tropical.
En plena secada, la factura de l'aigua serà exorbitant.

Greg?
-Greg? -Sóc aquí.

I el vam enterrar sota un arbre al jardí.
Ei, què fas aquí?

-Hola, Nina. -Hola.
Ho sento, és l'hora del sol. Seu.
-Vinga, seu. -Eres al telèfon quan he arribat?
No, parlava amb les plantes.
Oh, d'acord.

Va bé pel creixement i...
el diòxid de carboni, saps?
Senten emocions i coses...
Sí, està molt bé que parlis amb elles.

D'on has tret tot això?

Era per aquí...

Quan has sortit per darrer cop?

Quin dia és?

Dijous passat vaig fer compost, així que... no ho sé...
fa una setmana... i mitja.

La casa està diferent des que va passar allò.
No se senten els mentolats del pare. Aquí...
sembla que visquem en una selva tropical.
He pensat el mateix en arribar.
T'he comprat les coses a la cooperativa
i t'he portat més Sprite.
Genial. És light?
No.
No m'ho puc beure.
Sí, té massa sucre, no m'ho puc beure.
Els sucres afegits són un risc per les cardiopaties congènites,
sobretot si són hereditàries...
on vas amb això?
La volia llençar, està morta.
No està morta.

Només l'he de trasplantar.
-Ni te l'has mirat. -Ho sento.
No passa res, però no llencis coses que necessito!
Entesos.

He conegut els veïns.
Ah, sí, el conductor de Hummer.
Té un Hummer.
El va comprar la setmana després de coneixe'm.
Recordes quan la Lyddie va comprar l'Audi
i no parava de dir que era una inversió?
Però ell el va comprar després de mudar-se aquí.
Ho ha fet per tocar-me els collons.
Tresor, no crec que s'hagi comprat un cotxàs per fotre't.
És una mica...

Ara torno.

Molt bé.
Vejam.

Ens hem d'ocupar de moltes coses
i jo econòmicament no m'ho puc permetre.
En gran part és per aquest dúplex. Ja ho saps.
I sé que et vas acostumar a viure aquí
durant aquell temps, com nosaltres, i tots n'estem agraïts.
Et vam portar aquestes caixes i no te n'has ocupat, però...
no passa res, ho entenc.
Però nosaltres...

El Dan, la Lyddie i jo volem créixer.
I ara tens molta traça a fer créixer coses, sens dubte.
-És hora de trasplantar-te. -El contracte està al meu nom.
Entesos... no t'ho estic preguntant.
No estàs pagant, ho sento, no és una visita de cortesia.
N'hem parlat, executaran la hipoteca.
-M'estàs desnonant. -Jo no, el banc.
Sóc aquí perquè no vinguin dilluns amb la policia
i t'arrosseguin fora de casa, per això t'hem portat les caixes.

Aquesta petitona no s'ho mereixia.

-Et vull ajudar. -No és veritat.
No em vols ajudar, no eres aquí.
No em vas ajudar.

Escolta, estem disposats a parlar del tema,
i em sap molt de greu que haguem trigat tant
a reunir-nos, com una família,
i parlar de tot el que va passar.
Però ara t'he de portar a la notaria abans de les cinc
-per salvar el que hi ha aquí. -Saps el que hi ha aquí?
Saps quant m'ha costat
fer créixer l'heura per aquesta paret?
Sé que és una merda.
Ho entenc.
No vull ser aquí,
però ningú més volia venir.
Em fa por que t'estiguem perdent,
i no et vull perdre.
Sé que has patit molt
i que ningú t'ha ajudat, jo tampoc,
i ho sento molt.
Per mi tampoc ha estat fàcil,
i ningú m'ha ajudat tampoc, ha estat molt dur.
Trucaré al banc
i els demanaré un dia més,
i el pagaré, ho puc fer.
El Glen i jo t'ajudarem a omplir les caixes
i et trobarem un pis amb molta llum,
molta més que aquí, amb més sol...
Però ara has de venir amb mi a la notaria.
Has de firmar els documents per tancar el tema.
Necessitem girar full.
Hem de marxar d'aquesta casa.

D'acord.

D'acord?

Però necessito la màscara.
I tant.
Quina mena de màscara?
Ves amb compte.
No vull que et caigui la planta.
-Mira-te'ls. -Déu meu.
-No ho puc fer. -No, no, no, no.
Ei, el del Hummer! Què cony mires?
Puja al cotxe. Sí, tots sabem que tens un Hummer.

-Toqueu el dos! -Són tan cridaners.
Ho sento.

Vinga, em guies?
Entesos.

Molt bé, som-hi.

Subtítols: Tulio Labadie
Americana Film Fest
---
Stay tuned for more
We are trying to make our FV Player plugin better ever single day, by bringing more and more upgrades and updates. You can help us a lot, by giving us feedback or letting us know your thoughts by giving us a review.
If you have any tips or questions, do not hesitate and contact us via our Forum!