Is it possible for the medium sized guys to make money?
You bet.
Network Solutions, bought for $20 million in 2003, was just sold for $800 million three years later.
And amazingly enough, this deal was done by a Persian – Iranian American Jahm Najafi.
So do the Iranians know how to play a poker hand?
It certainly looks like yes. No wonder the Israelis want the Americans to bomb the Iranians to smithereens. Competition isn't fun.
Anyway here's Najafi's story:
In the tech-stock doldrums of 2003, a boutique private-equity firm now called Najafi Cos. quietly paid $20 million of its own cash and assumed $80 million of debt to take VeriSign Inc.'s Network Solutions unit private. For the next few years, Network Solutions LLC — a provider of Web address registrations — stayed under the radar.

This year, Najafi sold Network Solutions to another private-equity firm, General Atlantic LLC. The price tag: around $800 million. Minus debt-servicing fees and other costs, Najafi says it pocketed a profit of around $700 million — a return of 35 times its invested capital after a little more than three years.

How Najafi, run by 44-year-old Iranian-American Jahm Najafi in Phoenix, pulled off such a return underscores the golden age of today's private-equity market. It also demonstrates the outsize profit potential both of companies scooped up from the corporate dustbi

Mr. Najafi's firm started in 2003 as a subsidiary of Phoenix real-estate company Pivotal Group Inc., which is run by Mr. Najafi's older brother, Francis, who is part owner of the Phoenix Suns National Basketball Association team. At the time, the younger Mr. Najafi largely invested capital that he and his family reaped from real estate in the 1980s and 1990s; he spun out the private-investment arm into its own entity two years ago. Today, unlike with other private-equity firms that raise funds from institutional investors, Mr. Najafi said he invests only his own capital and that of his firm's three partners….

Mr. Najafi began looking into buying Network Solutions from VeriSign in early 2003. At the time, Network Solutions had several strengths: a well-known brand name from its dot-com days and a large customer base, numbering several million customers.

The onetime Internet star, however, was suffering from declining revenue as it faced new competitors in the market. Nearly 90% of the company's revenue at the time was from domain-name registrations, said Network Solutions Chief Executive Champ Mitchell, who began overseeing the unit in 2001. Mr. Mitchell said the division was "poorly structured…and had terrible customer service; I was brought in to catch a falling knife."
I remember hating Network Solutions. I remember how difficult it was to get a domain transferred away from them. Just a horrible company.
But lots of people never used the customer service and out of inertia didn't bother moving their domains away.
For that matter, it took a lot to make me go to the trouble of moving away from RegisterFly.com. And it was a lot of trouble to move my domains out.
But starting with that huge customer base and turning around service – that's a great tactic.
There's probably lots more opportunities like that (although without the 3500% return) – buy a flagging firm with a huge customer base – and turn service and offerings sharply around.
Before doing a buyout, first one must put one's own house in order…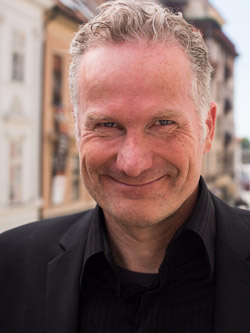 Alec has been helping businesses succeed online since 2000. Alec is an SEM expert with a background in advertising, as a former Head of Television for Grey Moscow and Senior Television Producer for Bates, Saatchi and Saatchi Russia.