Finally a place for good quality outsourcing and coders.
In 5 days I received about 25 applications. Of these 25 applicants, 20 of them had a better combination of skill set and experience than any resume that I have had float across my desk in the last year….My providers are highly skilled, great communicators, detail oriented, affordable, and they WANT TO WORK! When is the last time you went to the university down the street and picked up a developer with those credentials?
I've checked the resumés myself and Adam's right.

oDesk home page
Actually oDesk is more than a place for outsourcing, but a whole system for hiring and managing coders. It's rather techcentric. It's not the sort of thing that a client would enjoy managing (one does need to know how to spec a project in technical terms and how to speak to a developer). It's something for someone like me with one foot in the commercial realm and the other on the technical side. But to be honest I would probably have John do most of the developer management (depending on the project).
The decision about whether I would manage the project directly or not, would probably depend on whether John was already involved in that area of the business. Most of the SEO work is my direct province. To put someone between myself and the end developer would likely not improve matters. Most of the WordPress refinements and CMS (apart from the WYSIWYG editor and even that I've tried to hand off – but developers just don't understand WYSIWYG editors) are John's sphere. I am about to interview amother full-time developer locally with superb qualifications (finally!) this week. But if it doesn't work out or we need still more hands on deck, oDesk here we come! I will probably hire Russian and Ukrainian developers as I speak the language fluently. I don't really want to move to Tomsk (Vienna is quite nice, thank you!) to have to work with them. Without oDesk, you'd feel pretty cutoff. But with oDesk, I can live in Vienna and work in Tomsk a few days a week. Fantastic.
Some things I really like about oDesk apart from the system itself.
reasonable fees: oDesk takes a flat 10% fee. Small enough that nobody is really tempted to push them out of the middle. In exchange they provide a superb regulated environment.
transparency – you can get objective tested evaluations of most of the developers and you can even check out their personal sites and contact them off oDesk if you wanted to.
good design: unlike rentacoder.com, oDesk looks like it was meant to be used by people in attractive offices not tortured coders in industrial parks. As an ex-adman appearances are important to me.
high rates for the providers. As a buyer that sounds like a crazy notion. But really I don't want to be hiring a developer for $2/hour. Not only would I not feel great about it. He will probably either not have the skills or do a shoddy job. oDesk gives really talented guys in Tomsk (who might like Tomsk – I've been to Irkutsk but not Tomsk) a fair shake at earning something like a Western wages. $10/hour ($9 after oDesk's cut) might not sound like much to you but it's a great wage for a programmer beyond the Urals or in Romania. Expect to see some international programming stars rise out of oDesk.
I could even imagine that I would consider taking on an oDesker as a permanent programmer six months or year into the relationship. Who knows I might even move the guy to the West if that's what he really wanted and the commercial project justified the expense. Certainly, somebody who was doing regular work for Foliovision over six months would be more than welcome to visit home base for a couple of weeks, partly tourism and partly work.
Vienna is the new Paris! Code for us and see Vienna in style.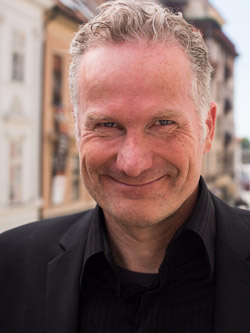 Alec has been helping businesses succeed online since 2000. Alec is an SEM expert with a background in advertising, as a former Head of Television for Grey Moscow and Senior Television Producer for Bates, Saatchi and Saatchi Russia.