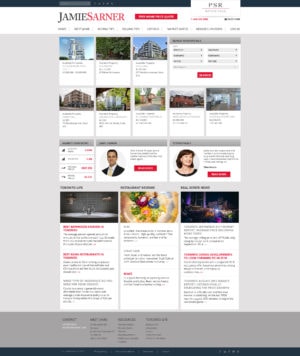 Jamie Sarner, JamieSarner.com
Jamie Sarner, JamieSarner.com ,
URL:JamieSarner.com Client:Jamie Sarner Services: Web Design, Graphic Design, Programming, Social Media & Marketing Technologies: CSS, XHTML, WordPress Completed: April 2013 Includes:
A blog focused on Toronto real estate and Toronto's diverse food scene
Toronto Restaurant Reviews
Toronto neighbourhood guides
Jamie's Seller & Buyers Guide
Toronto MLS Search
Monthly Toronto Real Estate Newsletter
Custom property listings management system and support
Open House & Just Listed Email Announcements
Social Media Management and Support
Content management & publishing
What Jamie says about us: "Having Foliovision taking care of my site, I found that it's definitely worth it. I'm satisfied that I'm getting the value, and it's getting even better over time with more activity. People like it and I like it, it saves me some time and gets things done in a good manner. The communication is good and I also like Basecamp, the project management system. Foliovision does the best to make every aspect of the experience as good as it can be while adding value and quality. Foliovision's services improved my online presence and are helping my business. I can recommend Foliovision, and I already have, because everything I have asked you to do is happening. It's a good service."